Published on February 14, 2023
Click here to view this newsletter as a PDF.
Transition. Change. Unknown. Every time we return home for home assignment, it is a time of transition, a time of the unknown. After 22 years of moving and transitioning every four to five years, you would think one would become use to it, but life is always changing, moving, and transforming. Transition brings blessings and challenges. The biggest blessings: seeing family, fellowshipping with our supporters. The hard part of transition: leaving a life behind that will continue without us and entering a life in North America that continued without us; having our nuclear family separated, with Paul in constant travel mode while the kids and I stay "home." We start home assignment running to catch up, adjusting, and learning the changes of North American life. In the second half of home assignment, we begin looking ahead, preparing, and adjusting to return to Japan. Transition is unavoidable in this life, but that doesn't make it easy. Transition reminds one to take one step at a time, with the constant repeat to keep trusting God, trusting His plan. Even through the clouds of the unknown, He holds our hand and walks alongside us leading where He wants us to go.
Paul has continued his church visits, starting January 8, and will have a church visit every weekend until summer, including many 10- to 14-day trips. Fortunately, we will all be home for Easter! Please pray he will find time to rest between church visits and for continued health. We are blessed by you and how you support us through prayer and financial giving. We appreciate your generosity with your time and gifts.
We continue to participate in mission meetings with Shan Reed and Yuri Nakano to help with the business of ministry in Japan. Meeting each month helps to stay in touch and support one another. Pray for these meetings, that they would be productive and encouraging.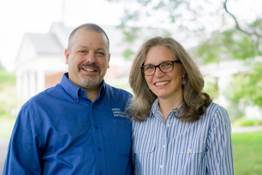 Thank you for your faithful prayer and financial support.
Grace and Peace,
Paul & Melissa Ewing