Published on November 09, 2021
Click here to view this newsletter as a PDF.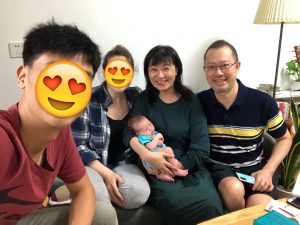 Dear Family and Friends,
Greetings in the season of Thanksgiving!
We have met a young lady who had depression for years. We name her Daisy. We met Daisy at a coffee shop while she had just lost her job at that time. She was sensitive, upset, emotional, a bit angry, and lacked confidence. We invited Daisy to meet regularly, and she shared her disappointment from daily living, unpleasant emotional life, and previous stressful jobs. She has been a believer; however, she felt that the Lord was very far from her. Sadly, Daisy struggled with chronic insomnia too. In the past two years, we encouraged her to widen her social circle, search for employment, develop her personal interests, and not to give up her faith. We pr*yed with Daisy together, and she was comforted by G*d's words.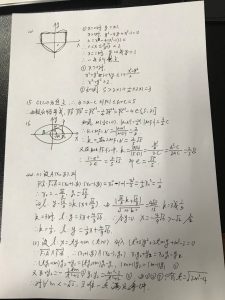 On the other hand, the education system in here is one of the most competitive ones in the world. Every year, nearly 10 million students take the gruelling two- or three-day end-of-high-school exam that determines which universities students can gain admission to and what direction their careers and futures may take. With this intense level of competition comes enormous pressure to succeed, anxiety about potential failure, and sheer exhaustion due to the effort needed to keep up with peers. Elementary school students are encouraged to learn computer programming while junior high school students are forced to learn college-level mathematics (see picture of a mathematics question of junior high school students). In this high-pressure environment, many students, parents, and teachers can become disillusioned or burned out. Sadly, suicide of students from young children to teenagers is not rare in these recent years.
As a matter of fact, Daisy is a very gifted person. She loves writing, singing, broadcasting, drawing, and photographing. Recently she launched her first mini photography exhibition. She shared a very encouraging testimony in the opening ceremony. We are proud of her. Even though Daisy has not yet fully recovered from her illness, we believe that her health would be improved physically as well as spiritually on the path of following Jes*s. Life is a journey. We are thankful that we have the privilege to keep company with young people like Daisy to go through ups and downs in their lives, love them with His love, and lead them to encounter the only Savior Jes*s Chr*st.
In this Thanksgiving season,
May G*d fill your heart with joy, because you are a joy to others.
May He surround you with love, because you share His love so freely.
May He grant you many blessings, because you bless all those in your life.
Thinking of you and pr*ying for you,
With love and thanks,
---
Nick & Iris
2620 Taylor Green NW, Edmonton, AB T6R 3N9 CANADA