Published on May 19, 2022
Click here to view this newsletter as a PDF.
Time of Gathering
Lunar New Year is the most important festival of the nation. In tradition, people return to their hometowns from working places hundreds or thousands of miles away and celebrate with family members and beloved ones. In order to avoid COVID spread, the government warned people not to do so this year. Some young adults who stayed in the city invited us to celebrate the festival with them. We made dumplings together for lunch in one of their homes and had good sharing with each other. Later in the same afternoon, another young man, who had just broken up with girlfr iend, invited us to celebrate the festival with him at his home. We comforted him and accompanied him on this special occasion.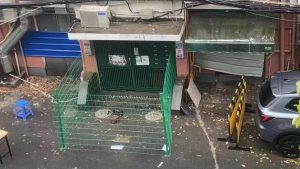 Time of Isolation
Since late February, the COVID cases surged fiercely in a famous megacity with a population of more than 25 million people. Insisting on the "zero COVID" policy, the government immediately locked down thousands of housing compounds where infected cases had been discovered, including ours. However, regional lockdown was ineffective to suppress this fifth wave of infections. As a result, the entire city was strictly locked down on March 28; hence, local transportation, business centres and offices, schools and universities, government public services, and even hospitals were all closed. Since then, the huge population had to stay at each own home and has been coping with all kinds of challenges until the time of writing.
The lockdown restriction was enforced so suddenly without prior notice. Everyone had to stay at his or her place. Besides homes, some people were even confined to offices or even fitness centres. Daily mandatory mass PCR and antigen tests filled up everybody's timetable from morning to evening. Many people faced financial stress and took care of children at home at the same time. Even worse, many households suffered from a desperate shortage of food and basic necessities after half a month. As the majority of residents were starving, panic buying of food from the black market at four to five times of regular price was sparked. Miserably, the food received went rotten in substandard conditions of food safety. Despite the fact that there were thousands of tons of food for emergency assistance delivered from other provinces, supplies went nowhere!
Meanwhile, the health care system has almost collapsed. Many patients with chronic diseases died either at home or the entrance of hospital without success to receive timely medical treatments. Sadly, some pregnant women miscarried on the streets after being rejected to enter hospitals. All residents feared, were deeply distressed, and grew furious. In order to achieve "zero-case" goal, every infected resident was forced to move to COVID containment camps. However, poor conditions and substandard facilities, as well as lack of medical care in the camps, threatened the public. Those who refused to go to the camps would be either sent by force or door-sealed at the house. Many people felt helpless. At the time of writing, our housing compound had been locked down for two months. Enduring undue hardships and stresses, more and more people committed suicide, including teenagers. There were three suicide deaths in our housing compound. Without a committed timeline from the authority to lift lockdown restrictions and ease COVID curbs, residents feel hopeless.
On one hand, we are thankful for our Father's grace and protection to us in these challenging times. On the other hand, as m*ss*onaries, we ponder if there are any additional ways we can serve others in the midst of this crisis. Besides praying for, caring for, comforting, accompanying, encouraging, counselling, and faith sharing, what other things should we do? Have we made a difference to the community when everybody was coping with hardships? Do people see shalom and love of J*sus through us in this predicament? We look upon J*sus as He is the Savior, the Provider, and the Comforter. Our hope is only in Him. We shared the G*spel to those who sought help. Praise the Lord! G*d drew people to seek Himself amid complete confusion. The megacity was completely locked down, but the Almighty G*d never stops working. Please join us in pr*yers for G*d's mercy and healing to all 25+ million residents of the city, as well as entire nation.
Time of Reunion
As our last home assignment was in 2019, we planned to have it so that we can meet our families and friends this year. Nevertheless, the citywide lockdown restriction made the plan almost impossible to happen! Counting G*d's grace and blessings, we praise Him for His miraculous work upon us: the authorities' approval for our departure (our housing compound and building have been categorized to be COVID high-risk zone), available transportation to the airport, undisrupted operation of our flight, fulfilling the demanding PCR test and antigen test requirements from the field country before travel . . . our Almighty G*d made all these become possible! To fulfill the COVID curb requirements for airport entry, we stayed at the airport for two nights and were finally permitted to board the flight. Our Father brought us safely back to Canada late April. We plan to stay in North America for a few months and look forward to meeting every one of you to share what G*d has done in our lives and yours this summer. Let's encourage each other and give glory to Him together.
With love and appreciation,
---
Nick & Iris
2620 Taylor Green NW, Edmonton, AB T6R 3N9 CANADA