Published on May 16, 2023
Click here to view this newsletter as a PDF.
Dear Friends,
We have been back in the US since early March and are completing our final church visits, which we began last summer and fall. We will be retiring as NAB missionaries at the end of June. This is a time of transition from our past nineteen years in Cameroon (four years in Bamenda and fifteen at Mbingo).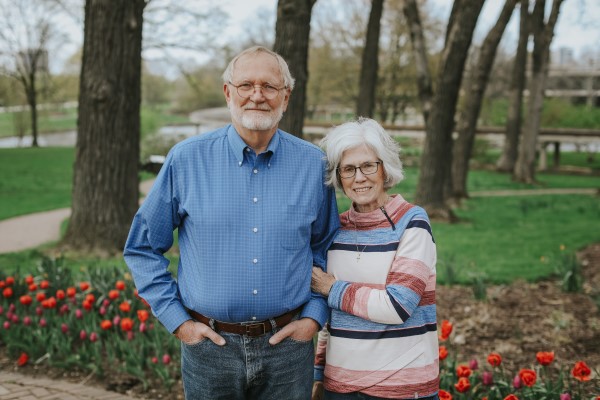 We are looking forward to finding some of the things God has for us to be engaged in these coming years. We feel very fortunate to have our home well established in Kansas City and two of our three sons nearby. We hope to find some ministries that we can support here, especially with the homeless population. We have made contact with some of the medical ministries that provide free clinics for these folks and may find a way to fit into those programs. We want to find a church close by where we are living, and fortunately there are several in the area we can choose from.
In mid-June, Nancy will be getting her next set of CT scans to follow up the choroidal melanoma. That time is always a bit stressful for us. So far, everything has been fine, without any evidence of recurrence, so you can pray with us that the tumor doesn't recur. Dennis continues to have good health, although age is beginning to make itself felt.
We are very grateful for the partnership we have had with you over these many years of ministry (including our previous eight years, primarily in the 1980s). It has been a great joy to have served as your missionaries in Cameroon. Without your financial support, we would not have had the opportunity to be part of this ministry. We also know that many of you faithfully prayed for us over the years. I am certain that prayer is the reason we were able to persevere in the work there. It has been difficult at times, especially over the past five years during the civil war, but God has been faithful in keeping us both safe and healthy throughout our years in Cameroon. I made it through close to 30 years of living there without contracting malaria. That is a real miracle.
Here in North America, we plan to continue to be involved in NAB ministries as there is opportunity, and hopefully we'll also be able to serve as volunteers in Cameroon, if there is need for our services and our health allows it. Currently, we are supporting the effort to build the Cancer Center at Mbingo (connecting specialists, weekly Zoom meetings, grant writing, raising money, etc.), and we expect there will be more projects that we can contribute to in the future. (See nabconference.org/give/special-projects and scroll down to Cameroon.)
Thank you again for your support and encouragement!
Dennis & Nancy Palmer