Published on November 15, 2022
Click here to view this newsletter as a PDF.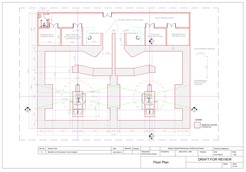 Throughout the Bible, we read how God provides what his people need when they need it. He provided the ram for Abraham's sacrifice, divided the Red Sea as the people began to step through, and gave mana to the Israelites—only when they were actually needed. Many times over the past eighteen years in Cameroon, we've seen how God has provided just what was needed, but only when it was needed (not far in advance, as we often wished)! This has been the case in examples as varied as doctors getting visas after several delays, obtaining government authorization for the post-graduate residency training programs, and funding for the hospital's huge hydroelectric project.
God has done it again! In our last letter, we wrote you about the arrival at Mbingo of the donated linear accelerator for cancer patients' radiation treatment. We were waiting to see how God would provide the funds needed to build the first phase of the Mbingo cancer treatment center—the building of the radiation containment "bunker" to house the linear accelerator. The hospital was eager to begin the building but only had about 10% of the necessary funds. After grant applications to four different organizations, two weeks ago, Samaritan's Purse wrote that they will fund about 75% of this building project! This is great news for the cancer patients at Mbingo Baptist Hospital.
The NAB is supporting this radiation therapy project through their Special Projects program. If you are interested in supporting the construction of the bunker building, or in making a donation to subsidize the chemotherapy treatments for a needy patient, you can find more information here: https://nabconference.org/give/special-projects/. Scroll down to "Cameroon Healthcare."
The addition of radiation therapy to the currently available components of pathology services, surgery, and chemotherapy will develop Mbingo Baptist Hospital into a leading cancer treatment center in Cameroon. As the hospital continues to grow from the current 1,500 new cancer patients annually, this is a great ministry opportunity.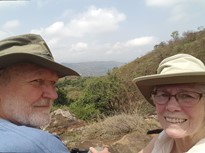 Thank you for your continued support for us and the medical work at Mbingo, as the staff endeavor to continue the physical and spiritual healing ministry of Jesus.
Happy Thanksgiving (belated, to you in Canada), and have a wonderful Christmas season celebrating God's wonderful gift to us, the gift of Jesus Christ our Savior!
Dennis & Nancy Palmer