Published on May 19, 2022
Click here to view this newsletter as a PDF.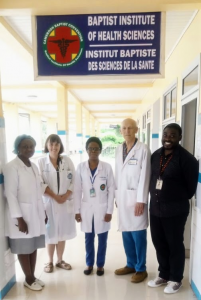 Part of most missionaries' job description (eventually) includes recruiting/training qualified persons to take over what we are doing. In preparation for our eventual retirement, three years ago Dennis turned over the Program Director of the CIMS Internal Medicine residency training to Dr. Julie Stone (also an NAB missionary), and I turned over my administrative work with our many visitors and medical volunteers to a Cameroonian assisted by another missionary. Before we left Mbingo, we turned over our positions of Dean and Registrar in the Institute to able replacements. We are happy to report that both are doing well in their new jobs. We are looking forward to continued work with the Mbingo programs by helping with development projects and serving as senior advisors.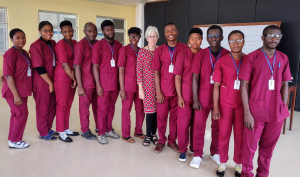 The work of the Baptist Institute of Health Sciences greatly expanded. Our first Master of Public Health class members have begun their second year of coursework. We have worked on curriculum development and setting up the school to begin teaching physical therapy at the bachelor level. We are happy to report that our first cohort of PT students is now halfway through their second semester of training. We have very much enjoyed setting up the foundation of the Institute and working with our colleagues there.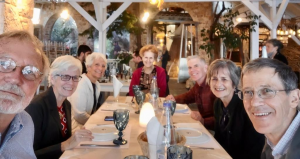 On our way home, we and five colleagues from Mbingo were able to attend a medical CME meeting in Greece sponsored by the Christian Medical & Dental Associations. We learned a lot, but the real joy was meeting other missionaries who serve in many different parts of the world. We enjoyed great Bible studies and wonderful Mediterranean food.
We are getting settled in Kansas City after recently returning to the States for an eight-month home assignment. We look forward to getting to see many of you this year as we travel to visit supporting churches, Mbingo volunteers, friends, and family. COVID-19 and our own unrelated illnesses last year have delayed us in reconnecting with many of you. We also look forward to several conference opportunities as we encourage others to commit to international missions. One meeting you might be especially interested in is that Dennis will be the "on-call" physician for any illnesses / emergencies at the July 9–15 NAB youth conference, The Gathering. We are praying for opportunities to get to know some of the youth as we are present and working and worshiping alongside them.
Thank you for your continued prayers and encouragement.
---
Dennis & Nancy Palmer
Mbingo Baptist Hospital, PMB 42, Bamenda, Cameroon
palmerdd47@gmail.com | palmernancylea@gmail.com