Published on November 09, 2021
Click here to view this newsletter as a PDF.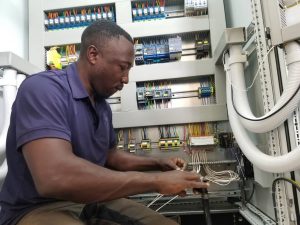 The past summer has been both exciting and challenging. We appreciate the prayers on our behalf as we passed through the health problems that both of us faced. We are both doing fine at present but now are more aware on a practical level that there are unknown health challenges that come with aging. Nancy will get CT scans in early December, watching for metastases from her eye melanoma. I hope that I am through with my health issues and am watching to see if anything more arises. Our team decided that it was better for us to stay in Kansas City until early January before returning to Cameroon.
Finally, in mid-September, the ten-year hydroelectric project was completed, and the power was turned on! The plant provides abundant, stable power to the entire compound. It also allows us to operate the oxygen system, which we had completed a year ago but could not operate due to the poor electrical power. We now have piped oxygen throughout the hospital and can run the CT scanner without first turning off the autoclave (for example).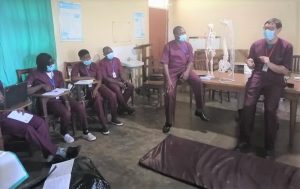 Our biggest challenge at present is in continuing to develop the Baptist Institute for Health Sciences. Up until this year, the Institute was only involved with the residency programs in surgery and internal medicine. In March, we started a Master's in Public Health program. This October, we launched our first undergraduate course, a BSc in physical therapy. This has been challenging, especially with the limited staff available to teach. We have developed an online teaching program as the primary method of presenting the didactic material to the students. Each course also has weekly live interactive sessions with the students. Thankfully, even though we are unexpectedly in the USA right now, we have been able to continue with most of our work with the Institute, having meetings with faculty and administrative staff and teaching our two courses over Zoom. Overall, the program is going well, so we thank God for that. We hope to expand this bachelor's program to offer other basic courses for our health personnel.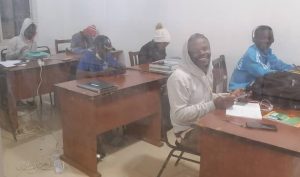 The conflict is ongoing in the English-speaking regions of Cameroon. This continues to make travel to the hospital difficult. We have two buses that carry patients the 35 km from Bamenda, and this helps somewhat. We are thankful that some volunteer faculty have been able to return. We continue to pray for resolution of the issues. People are suffering, losing their livelihoods, and many are displaced from their homes. Our doctors and hospital staff are persevering and compassionately caring for those who come to the hospital.
Thank you for your prayers and encouragement.
---
Dennis & Nancy Palmer
Mbingo Baptist Hospital, PMB 42, Bamenda, Cameroon
palmerdd47@gmail.com | palmernancylea@gmail.com