Published on August 19, 2021
Click here to view this newsletter as a PDF.
Home assignment this year has been one of the most unusual home assignments I have experienced. As I have mentioned over and over, thank you to each of you for your understanding as we have navigated this time together. I missed seeing each of you, sharing what God has been up to in Japan, and catching up on your lives. Because of all that has been happening in my life during the past six months, I have to honestly say that if I had had to travel as much as I usually do, this would have been a much more difficult home assignment.
At the beginning of July, the North American Baptist Conference held its Triennial Conference virtually. Although we did not have the fellowship that is usually such an integral part of the conference, it was good to gather and learn together.
The theme for the conference was Reimagine Hospitality. In a time of travel and gathering restrictions, this was a timely theme. What an encouragement to be reminded that God is our principal example of hospitality through creation, the incarnation, even through the ascension.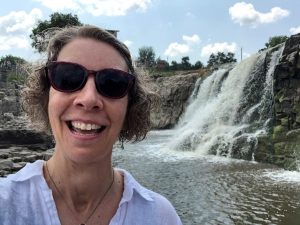 I am grateful for the way so many of you showed hospitality to me during my home assignment. I learned much about being a host and being hosted even through Zoom gatherings, phone calls, and emails.
Because I have been living in a different city this home assignment, and because of the pandemic, I was not able to attend my home church, West Center Baptist Church in Madison, South Dakota. Before returning to the US in January, I had been praying about where to attend church during this home assignment. God led me to Trinity Baptist Church in Sioux Falls. I am so grateful to these brothers and sisters in Christ who have shown hospitality to me in more ways than I can recount here.
Another surprising place I have learned about hospitality is at the nursing home where my mom has moved. The staff and many of the other residents have taught me how to welcome the stranger and those in need. May I also mature into a woman who welcomes others generously.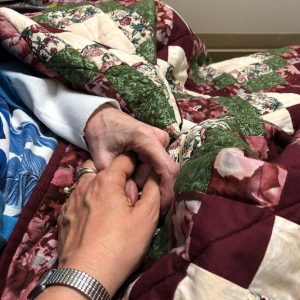 I have shared in several of my recent newsletters that we have a new missionary family preparing to join us in Japan. Would you be willing to show hospitality to the Gaudio family by joining us in praying for their support-raising process? Maybe you would take a moment to send them an encouraging email to let them know you are praying (rafa.sylv7@gmail.com). Or maybe you or your church would even be willing to join their support team. Visit their page on the NAB website: nabonmission.org/missionaries/raffaele-sylvia-gaudio/.
As I write this newsletter, many of you have been praying for my travels to Japan at the end of July. My plans changed, and I am still in the US. My new departure date is August 17. Thank you for your prayers! When I arrive in Japan, I will need to self-quarantine at home for 14 days.
One other update from my July email; I forgot to put my condo number on my address. My new address is: 7701 S. Townsley Ave #212, Sioux Falls, SD 57108.
Thank you for your partnership in the gospel as we reimagine hospitality together in the places where God has placed each one of us.
Shan Reed
Ibukino 3 Chome 14-9-903, Izumi Shi, Osaka Fu 594-0041 Japan
7701 S TOWNSLEY AVE #212, SIOUX FALLS, SD 57018 USA
nabonmission.org/missionaries/shan-reed
Komyo Youtube Channel: youtube.com/channel/UCcuaqxhYlUf-DMZAuh5cZtQ