Published on August 11, 2023
Click here to view this newsletter as a PDF.
Recently I was listening to a CD I haven't played for a while by the Brooklyn Tabernacle Choir. When I read Hebrews 10:23–25, I am reminded of one of the songs on the CD, "He's Been Faithful." The chorus states, "He's been faithful, faithful to me. Looking back, His love and mercy I can see." I truly am grateful for his love and mercy, which teach me of his faithfulness to me, to us.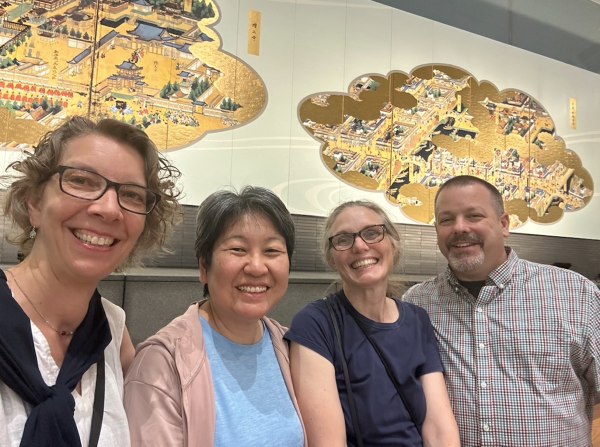 This quarter has been filled with reminders of God's faithfulness. As I was thinking about the theme of faithfulness for this update, I realized that I have used this theme before and found that it was one year ago in my August 2022 newsletter! I guess this is the time of year God's faithfulness is on my heart.
One year ago, Paul and Melissa Ewing left for home assignment. As many of you know, during their home assignment, God has called them back to the United States. God's faithfulness in their lives and ministries have been so evident over the 22 years they have been serving in Japan. We do not know the plans of God, but we trust him because he is faithful! For the Ewings, July was spent cleaning and packing and filling out many forms as they prepared to leave Japan as NAB missionaries. It has been an amazing privilege to serve alongside them at Kongo and Komyo Churches in southern Osaka. I am thankful for God's faithfulness in establishing his church here in Japan and allowing us to journey together in ministry.
God has called us to continue meeting together to spur one another on toward love and good deeds. Yuri and I have seen God's faithfulness in this area as we have continued facilitating ladies' seminars throughout the Japan Baptist Conference (JBC). In May, June, and July, we had seminars in five regions of the JBC! Mie was the final region to host their first seminar. It was exciting to serve the three churches there and especially to see the generations of women studying God's Word together. In 1996, when I first arrived in Japan as a short-term missionary and couldn't speak Japanese, I had met some of the women who attended. Twenty-seven years later, God's faithfulness was palpable to me as we studied his Word together, in Japanese.
I have so many stories of God's faithfulness in ministry to share. However, I am going to close with a story of his faithfulness in my personal life. In 2019, I turned 50 years old. My college roommate and I began planning a trip to celebrate. Then, 2020 happened and the world shut down. For a variety of reasons, we had to postpone our trip until this year. We were able to spend 10 days traveling together in central Europe. We met so many lovely people and learned the history of lands and people we hadn't known before, people of strength and courage who believed in the faithfulness of God. God's timing and provision for us to take the trip this year reminded us of his faithfulness to us, too.
Thank you for your prayers and support of me and the ministry in Japan. I pray that you also are experiencing the faithfulness of God in your life. May you consider how to spur each other on toward love and good deeds, not giving up meeting together. Our God is faithful. May he find us faithful.
Soli Deo Gloria
Shan Reed