Newly appointed Missionaries to Japan
Equipping Disciples and Church Planting in Japan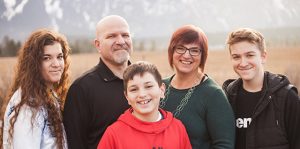 When did you first know God was calling you to the mission's field?
Raffaele: Originally, I knew that I would serve God as a missionary when I did a short-term mission to Mexico in 1997. I had decided to do this in order to see how it was on the field. My wife Sylvia and I had just become engaged, and she had already been all over the world as a missionary, and I at that time had never even been to the United States. When I returned from Mexico, I knew that I was made for missions. Fast forward to 2019, we were in a season of prayer and seeking the Lord for direction. In the process of trying to discern how and where God was leading us, it became clear to me that God was speaking to me about the country and the people of Japan in April 2019. "Seek the Lord while He may be found; call upon Him while He is near" (Isaiah 55:6).
Sylvia: When I was six years old, my grandfather asked me what I wanted to do when I grew up. I told him I wanted to be a nurse and a missionary. As soon as I graduated from high school, all I could think about was to save up money and go on missions. I was able to a year after graduation and was so hooked. I loved meeting other believers around the world and worshipping the same God together with them. It reminded me of Revelation 7:9: "After this I looked, and behold, a great multitude that no one could number, from every nation, from all tribes and peoples and languages, standing before the throne and before the Lamb, clothed in white robes, with palm branches in their hands."
Who is someone that influenced you in your decision to serve as a missionary in a cross cultural setting?
Raffaele: The challenge of the Great Commission, William Carey, Count Nicolaus Zinzendorf and the Moravian missionaries, Bruce Olson, Loren Cunningham, Pastor Rick Bettig, my wife Sylvia.
Sylvia: So many people influenced me towards missions, but more recently in this decision to go to Japan, Rick Bettig, our senior pastor, was so instrumental in encouraging us to seek out the Lord in this process. He could see the call of God on our lives as a family and was quick to look for opportunity for us to serve the Lord with the NAB.
How long have you been serving as a missionary? As a NAB missionary?
Raffaele: My first official involvement apart from a short-term mission to Mexico with YWAM (Youth with a Mission) was in April 2003 to December 2003 with YWAM Middle East. We returned to the Middle East in 2010 where we spent five months in Amman, Jordan, training in cross-cultural training there. We then travelled to northern Israel, where we were part of the northern Israel team until January 2015. Our appointment to the NAB is more recent. We were officially accepted February 2, 2020.
Sylvia: I have done many short-term mission's trips and before meeting my husband had served for half a year in Brazil in an orphanage as a nurse/house mother. God has opened opportunities for me to share the gospel in New Zealand, the Philippines, Indonesia, Turkey, Germany, Holland, England, Scotland, Mexico, and Kenya. Being a nurse opened a lot of doors to share the hope of Jesus, even in a street church in Victoria where Raff and I met. This is our first time to serve with NAB, but we have met some of the staff and are so excited to see God knit our hearts together.
What life experiences did you have that helped you prepare to go overseas?
Raffaele: I believe that our previous experiences overseas on a number of occasions has prepared us for what is ahead on the field in Japan.
Sylvia: One of the main experiences that prepared us to go overseas was a season of missions work in the Middle East. We took a school of frontier missions with YWAM in Amman, Jordan, and then following that pioneered a ministry in northern Israel. It was so stretching to take five kids who were under the age of 13 and work through cultural adjustment, language acquisition, and faith to trust God for even the food on our table. Our love for others, our faith in Jehovah-Jireh, our hope in the midst of grief were places that we grew in exponentially.
How would you describe your first year on the mission field?
Raffaele: Our first year on the field was exciting yet at the same time was an intense experience of sensory overload. It was also quite tiring, particularly also trying to decipher two different languages, Hebrew and Arabic.
Sylvia: Exhilarating, faith building, and stretching in places I didn't know you could stretch.
What surprised you the most once you began your work? What did you wish you knew beforehand?
Raffaele: I think dealing with the complexity of the bureaucracy was the most surprising. I would have wanted to do some prior research beforehand regarding schooling for the kids and other practical things such as the processes for purchasing a car or opening a bank account.
Sylvia: It surprised me how generous and giving some people were and that God had placed us in a position where we really had to depend on the believers in the land. This built long-term bridges that never would have happened had we been self-sufficient.
What initial fears/concerns did you have about serving as a missionary overseas?
Raffaele: My main concern is the adjustment of our kids to the new culture and language.
Sylvia: At present my greatest concern is leaving my elderly parents behind and trusting that God has their care looked after, as well as our oldest daughter, who is newly married and expecting their first child. These are things that weigh on a mother's heart.
What has been the most challenging aspect to your work?
Raffaele: When we were in the field between 2011 and 2015, at times there was some isolation between the northern and southern teams.
Sylvia: The most challenging aspect to serving long term in Israel was the political polarization that seemed to happen among believers who sided either with the Jews or with the Arabs. This seemed to magnify whenever there was a war.
What has been the most rewarding part of your work?
Raffaele: There are several rewarding aspects: Witnessing the local people coming to saving knowledge of Jesus Christ and becoming a His follower through discipleship, and being able to assist in that process. In addition, learning the language in order to be able to testify about Jesus Christ proficiently is also very rewarding. The last thing I want to mention is being a part of a team working together towards bringing the Kingdom of God to the people of the specific country God has called you to is also extremely rewarding.
Sylvia: The most rewarding part of the work was seeing people come to their Messiah and have a revelation of the salvation that was fully paid for. Wow! What a miracle to watch unfold.
What are some of the ways you have you grown since you have been serving overseas?
Raffaele: Since being overseas I believe that I have grown to appreciate the different cultures represented throughout the world and how they are a gift from God.
Sylvia: I think God has given me more faith to trust Him in prayer and know that He can do ANYTHING. He is such an amazing God who moves mountains and can soften the hardest heart.
What is something that would surprise others about mission work or the people you are called to serve?
Raffaele: When people think of Japan or the Japanese people what comes to mind is their successes economically, their innovation, their excellence; however, what they may forget is a people who desperately need Jesus. They may also not think that there are churches there where the people need encouragement and edification.
Sylvia: Sometimes mission work can be mundane and regular. Sometimes you can go through periods of dryness in your relationship with Jesus. But that doesn't mean that He isn't still at work.
What are some of the factors that lead you to become an overseas missionary through the NAB?
Raffaele: When I discovered the overseas mission work being done by the NAB, I was excited to see how well developed the structures were for mission work that were aimed at promoting longevity on the field. I observed factors such as networking, partnerships, solid office administration .With these in place and functioning well, it allows for the missionaries on the field to be able to focus on their field work with a lot less distraction.
Sylvia: It really was the Lord leading us to Creston Baptist Church after being in the Middle East, and then our senior pastor suggesting that we look into this mission, as we had Japan on our hearts.
What advice would you give to those considering overseas missions?
Raffaele: Know that you are called by God first and foremost. Once you determine that, embrace that calling. Be committed to the preparation process.
Sylvia: Ask God to open a door that He has for you and to confirm that possibility through other believers. He can make all things possible.
How can people pray for you?

Raffaele: I would very much appreciate prayer for the fundraising process and all the preparations we need to make beforehand. In addition, once we arrive that we would receive God's grace in an abundant measure to adjust to the culture and pick up on the language. We know that God is faithful and can testify about His faithfulness time and time again; however, we sure would love to have prayer about these things.
Sylvia: Please pray that God would raise up the partners in prayer and financial support. Pray that we would have His heart for the people that He brings into our lives in Japan. Pray for unity in the team. Pray that we would have great grace in learning Japanese.