Published on February 14, 2023
Click here to view this newsletter as a PDF.
God's work in me personally and in the world around us can often be slow, much slower than we would like it to be. The more days I spend walking this earth with Jesus, the more I have learned that I often walk too fast to notice God at work. Taking a few moments each quarter to share with you what God is doing and how you can pray for me as well as Japan helps me to slow down and take notice.
First up, an update of youth activities. We had a youth Christmas party with three churches, planned and led by the students, in early December. Fun, food, and worship! In early January, we had our winter youth gathering with students from churches of the Japan Baptist Conference. More student-led fun, food, and worship! God is at work in the students' lives as they are learning to walk with Jesus and how to trust him. They are also learning to build friendships with others who love Jesus. Three of the students in our group from the Komyo and Kongo churches are taking entrance/graduation exams in February. These tests are very important for their schooling and future. Please pray for them.
Yuri and I have enjoyed God at work in the lives of women who attend the ladies' seminars and other events. We love listening to the ladies share what they learned from each other at the seminars. Also, in December we had a ladies' craft time at Komyo Church to make gifts for the residents at the nursing home across the street. The ladies worked diligently and enjoyed fellowship as they used their creativity to share God's love.
In February, Yuri and I will facilitate a ladies' seminar at Komyo Christian Church. Then in March, I have been invited to be the speaker for our annual Kansai Christian Women's Conference, a day of worship, study, and fellowship with English-speaking missionaries and Christian women in our region. I am looking forward to seeing God's work through these gatherings and in my own heart as I prepare.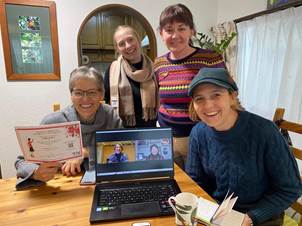 Our international planning team for the conference (pictured on the left) chose the theme of "Spiritual Elegance: Clothed by Christ," with Colossians 3:12–17 as the main passage. I have been enjoying my preparation for our day together, reading books and articles, watching videos and movies. I think I probably have enough material to talk for days, but the committee has reminded me we are only gathering for one day! God is at work in my heart, and I am praying for his work in the hearts of the ladies who attend the conference, too.
English teaching has been part of ministry in some capacity for me since I first arrived in Japan. I am especially noticing God at work in my students' lives in more informal settings. The students graciously received bilingual New Testaments at our Christmas party. Recently, at lunch with one of my classes, one student shared her thoughts and feelings about her mother's death last fall. The English Bible class continues asking questions, not only about the Bible passages we are studying but also about how to walk with Jesus in everyday life.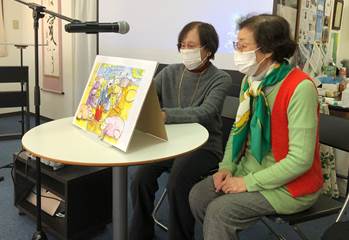 Komyo Christian Church had fun celebrating the birth of Jesus together as a church family. After our morning service, we had sandwiches and snacks while enjoying a program in which everyone participated, from the youngest to the oldest attendees. We sang songs, heard the Christmas story, and had a visit from two of Yuri's puppets. It was the first time to really meet all together, in our church, for a celebration since before the pandemic started. It was wonderful to see God at work as we fellowshipped and celebrated as one family in Christ.
Thank you for participating in God's work in Japan through your faithful prayers and support. I am grateful to have such an amazing team walking with me, even from afar, while I minister in Japan. The members of Komyo Christian Church and all my Christian friends here are thankful for the way you show the love of Jesus through your prayers for each of them. May each of you also experience and notice God's work in your hearts and ministries where he has placed you.
Soli Deo Gloria
Shan Reed