Published on August 20, 2019
Click here to view this newsletter as a PDF.
"I have seen the hand of God" said Rogers in his testimony. Six people gave their testimonies at the hospital's Sunday morning chapel service two weeks ago. Rogers was one of two young men who told how they had become followers of Christ during their stay at Mbingo.
After he was discharged, Rogers stayed near the hospital so he could work to pay off his hospital bill. During those months, one hospital chaplain stayed connected with him, and through their time together, the young man came to accept Christ as his Savior. He was baptized on June 12th. In his testimony, Rogers asked us to pray for him since he would soon be leaving Mbingo to return to school. He recently reported back to the chaplain that he is attending one of our CBC churches in the capital city.
He came to Mbingo for surgery but developed internal bleeding which couldn't be stopped. After receiving 8 units of blood, the Mbingo surgeon told him that they would give one more unit as a last attempt but only the Almighty God could stop the bleeding. They prayed together, gave the transfusion, and soon his bleeding stopped.
Since nearly its beginning, Mbingo Baptist Hospital has had daily morning devotions in every inpatient ward and in the outpatient clinics. There was no additional Sunday worship service specifically for patients and their caregivers, since there is a Baptist church only a five to ten minute walk from the hospital wards. Dennis and some others began discussing that attending the church service is problematic for many: the short walk is too far for someone on crutches or when it is raining, the two-hour service is too long for some caregivers to be away from their patients, and the service is only in English. (About half our inpatients are primarily French speakers.) They saw a need to have a Sunday worship service explicitly geared toward our ambulatory patients and patients' caregivers. About two years ago the head chaplain implemented the new worship service and now it is well-established. It is led by one of the nine hospital chaplains. The service is in both French and English, and the shorter sermons are prepared specifically for patients and caregivers.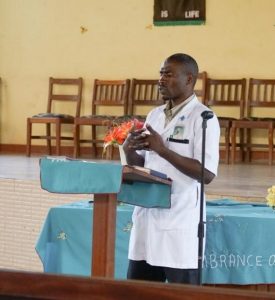 Yesterday's text was Isaiah 43:1-11. "Do not fear, for I have redeemed you; I have summoned you by name; you are mine. When you pass through the waters, I will be with you; and when you pass through the rivers, they will not sweep over you. When you walk through the fire, you will not be burned; the flames will not set you ablaze. For I am the Lord your God, the Holy One of Israel, your Savior. . . Do not be afraid for I am with you" (Is. 43:1b-3a, 5a).
At the close of each service, there is a time for personal testimonies and prayer requests. Since there are from twenty to forty in attendance, there is time for everyone who wants to speak. This is one of the most touching parts of the service, hearing how patients have received blessings from their time at Mbingo, and hearing their prayer requests.
Please continue to pray for the spiritual and medical work of our hospital staff. Pray especially for the chaplains who are able to have extended time with those interested in learning more about Jesus Christ.
Thank you for your financial and prayer support for our ministry here.
Dennis & Nancy Palmer