Published on February 13, 2023
Click here to view this newsletter as a PDF.
Interesting! The passage that God has placed in our hearts for this month's prayer and praise report are verses 22–23 of Lamentations chapter 3. . . See it? "22–23", the year has just turned from 2022–2023, and we continue to see God's faithfulness in His work at BCCL!
Big Move to the Philippines
Yup! We've packed our suitcases and loads of boxes (a lot more to pack when we get back to Lodi end of this month) and moved to the Philippines last January 10. We felt the Lord calling us to finally be in the mission field instead of just doing ministry remotely for almost three years. He had orchestrated everything, especially the timing of this move, and just flowed with what He was already doing. Sadly, it was time to put Tim's dad in a memory care unit. We held out until it was really necessary.
It was a grueling almost 20 hours of flights, especially since we already brought our dog, Sushi, with us to the Philippines. He was a wedding gift (weird, right?) from the Philippines that we brought to California six years ago. Now he's a "balikbayan" (returnee) dog.
This is a step of faith for us since most of the director's quarters has been gutted. We don't have a kitchen, but at least we have a room and a bathroom. But thanks be to God for His provision! Some individuals have donated funds to have our place done soon. God's mercies indeed never come to an end!
Now, our main prayer concern is regular monthly support for our living expenses. Over the last six years of ministry together, we have just been living off of Tim's retirement pay (which mostly go to health insurance). So, we really need to raise funds as missionaries. We continue to trust in His provision and believe that "where God leads, He will provide." Thanks to everyone who prayed for us on this leap-of-faith move to the Philippines.
The Gospel Jesus Preached
Tim is currently walking our students through the Bible, to rediscover what the true Gospel is, in an elective course called "The Gospel Jesus Preached." There has been a lot of "aha" moments among our dear students as they find out that much of our churches' evangelistic trends over the last decades have become too creative and me-focused. The common trend is person-focused (what Jesus did to you, what He will do for you, etc.) rather than Christ-centered (who He is, His desires and purposes); decision-focused (you must accept Jesus as Lord and savior) rather than discipleship-focused (being true followers and lovers of Jesus).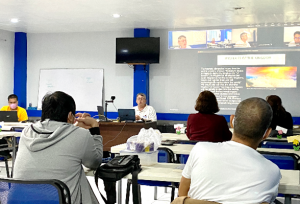 This is a key component to Christian life, getting the Gospel message right, proclaiming it correctly just as Jesus and apostles did, and living out, obeying, and following, as well as centering our lives in Christ Jesus no matter the cost. It's a course that we will teach for many years to come.
The Cost of Proclaiming the Gospel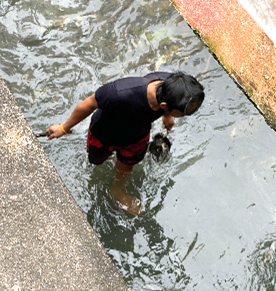 A few days after arriving in Legazpi, Claire saw a group of pedicab drivers congregating at the bridge next to the BCCL campus. They were watching a man wearing swim goggles dive the not-so-deep stinky and murky waters of the river below trying to catch fish to feed his family. This reminded us that a lot of believers these days go to dire straits to "catch men" to bring to God's kingdom.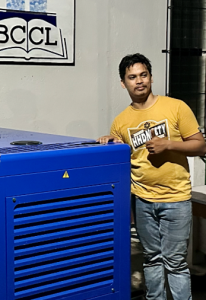 James, a Christian engineer, delivered BCCL's new 16KVA generator (donated by an NAB church in Detroit) last January 21. The challenges of low electrical wirings and the low ceiling of the BCCL carport did not allow the boom truck he brought with him to easily deposit the almost one-ton generator. He ended up rounding up a bunch of pedicab drivers in a sheer work of ancient engineering feat (used even in ancient Egypt to build those pyramids)—using small metal tubes to slide the generator at BCCL's carport. We ended up accommodating James in a spare room overnight since he lived far away in the island of Masbate. We said goodbye the next day, thanking him for all his hard work. Five days later, James passed away. He was in his mid-twenties.
We found out that he fell from a height of 65 feet trying to install a precious antenna for a Christian radio station that would proclaim the Gospel to his island of Masbate and beyond. We thank the Lord for James's life, devoting it to God's purposes to the very end. Please pray for his family and friends for this great loss.
As God is so faithful and paid the cost for us to get to know Him deeply and personally, to be a part of His family, may we all passionately seek after Him, being faithful disciples to the very end.
A. Claire Marker, BCCL Director