Published on December 07, 2022
Click here to view this newsletter as a PDF.
Dear Friends,
As Solomon says, "There is a time for everything," and for me, once again, it is a season of change. My original plan was to return to Canada for an annual cancer check-up and all the medical procedures that go along with that. I would return to Romania in time for the Winter Retreat with the youth. However, things have changed.
After much discussion and prayer, Jason and Erin and I realized that the kids are not learning the language very well and are missing out on opportunities for friendships and spiritual nourishment. So, it's been decided that the kids should be enrolled in public school beginning in January and I will no longer be needed as a teacher.
Again, God's timing is perfect. A few weeks ago, my 92-year-old dad experienced COVID and was hospitalized. He is doing well now, but it was a wake-up call as to the limited time I will have with him. The renters who have been in my condo for over 15 years have now moved out and some decisions need to be made. Furthermore, my return ticket was ridiculously expensive, and the money can now be used elsewhere in ministry. What good timing.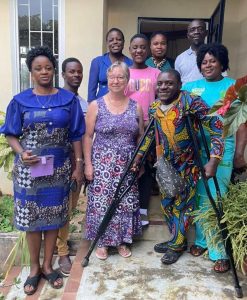 In the meantime, I have continued to experience blessing after blessing. During our fall break, I was able to return to Cameroon! What a privilege to visit with old Cameroonian friends, visit Rain Forest International School again, and celebrate Canadian Thanksgiving with Canadian friends.
The business I needed to complete there went smoothly, with the correct people being in the office and all the documents having all their requirements. Although I needed to go to "sketchy" places in Bamenda, God kept me safe and all was peaceful the whole time I was there. Many people's prayers followed me and were answered.
Back in Romania, we've had some wonderful visits from folks in Canada. The Bergmans' grandparents came, as well as a family from McKernan Baptist in Edmonton. It's always fun to share our ministry with folks and, in this case, to help with renovating the house the Bergmans hope to occupy soon. I had an opportunity to host and share a devotional with the Junior Youth group after their bowling event. I'm also going to miss the folks who pass me daily as I wait for a ride in the morning. I feel like I was just starting to get to know them.
Reflecting on my time in Romania, I feel very privileged to have had this time here. I feel like the Bergman kids have a good foundation and Erin will be able to supplement work after school. I'm grateful for the relationships I've developed here and hope to visit again.
This will also be my last overseas assignment in full-time capacity. I hope to visit with each of you shortly after my return to Canada. Please let me know if there is an event or date that would be best.
Words cannot express how much your support in prayer and finances have meant to me. Thank you for being part of my journey in following God's will for my life. I could not have done it without you. My need for support will end on June 30, 2023; please consider transferring your support to Maureen and Craig Moody. Maureen is the acting field director in Cameroon, where I served for years, and Craig works at the Rainforest International School, where I taught for several years. For more information about transferring your support as of July 1, 2023, please reach out to Caryn Young at the NAB office; her email is cyoung@nabconf.org.
May God continue to use you in another capacity to build His kingdom. May you continue to experience His peace and joy as you walk with Him.
In His Hands still,
Elsie Lewandowski