Published on November 09, 2021
Click here to view this newsletter as a PDF.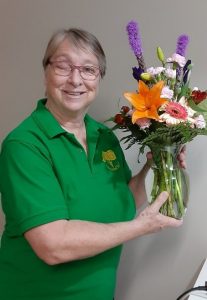 Dear Friends,
Elsie needed:
As many of you know, in July I began "The Journey of my Right Eye." It has been an exciting journey of watching God go through His checklist and answer every one of my needs and prayer requests with a check mark. It began with the discovery of an unknown mass pushing my optic nerve, to the removal of my right eye and the mass, and continues with radiation. But the journey!! Who could doubt God's presence in all of this? See the checklist below. . .
COVID vaccines to enter Canada – I was able to get Canadian-approved vaccines plus COVID tests on time before boarding a plane.
An appointment with the overbooked retinologist in Edmonton – No problem.
An appointment with an ocular oncological surgeon – He was a personal friend of the retinologist and lived in Calgary, not Toronto or Vancouver.
An MRI – Although Calgary's MRI departments were overbooked, no problem.
Blood work for surgery – My family doctor foresaw the need, and it was already completed.
A biopsy – It was completed very swiftly in the doctor's office with a syringe. There was fear that needed sample would not have enough specimens but there were plenty.
Clarity in the lab – The lab was uncertain with the specimens, so they were requesting a surgical biopsy. Praise God, they changed their minds and could proceed.
A pathology report – After much delay, it was determined the mass was cancer but the cancer was unique so it was hard to determine how surgery would proceed.
More time to recover from the biopsy – This delay allowed for more healing from the biopsy.
A surgery date – Alberta Health was cancelling so many surgeries because of overloaded ICU COVID units, but this was one out of three surgeries NOT cancelled.
Successful surgery – Truly a success!!! The cancer did NOT branch out into any other part of the brain. The mass did NOT break but came out whole. There was NO additional surrounding tissue that needed to be taken. Because the mass was so large and would not fit through the eye socket, a bit of the bone was successfully removed.
A place to rest in Edmonton for a few weeks – Two friends offered very different places to rest.
A follow-up appointment in Edmonton – What an excited doctor!! He was so pleased with how the healing was progressing. I was disappointed that radiation is still needed
A separate place to recover – A friend offered a fully furnished apartment in a lovely, old neighbourhood.
Another MRI – Even the person booking the appointment was surprised with how quickly I got an appointment in the overloaded system.
An appointment to discuss radiation treatment – Scheduled for Nov 1. Then we will see how God continues to move.
Meanwhile, the Bergman family is proceeding fairly well with homeschooling without me. Their additional books have arrived, and we will continue to Zoom so I can help in any way possible. Will I get there some time in January? Only God knows, but so far things just keep getting checked off the "to do" list.
I would not be where I am today if it were not for you, my army of supporters, who are so amazing. Thank you for your continued prayers, encouraging notes, and continued financial support when I don't feel like I'm doing much. You are all troopers, faithful and loyal and supportive. You have blessed me more than you know. May you experience the wonder of God's next steps in your life as I have in mine.
Safe in the arms of Jesus,
Elsie Lewandowski
elsielew55@gmail.com | nabonmission.org/missionaries/elsie-lewandowski
---