Published on February 20, 2022
Click here to view this newsletter as a PDF.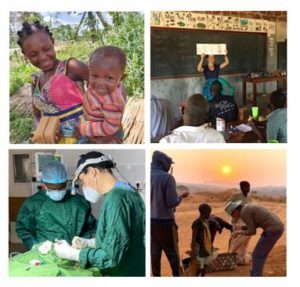 For us, report writing is a bitter-sweet experience. Getting started is the difficult part. It's easy to find "more important" things to attend to, like tidying one's desk, walking the dog, making that long-overdue call to a friend, or simply staring out the window appreciating creation. However, each time, once we cross the threshold and enter the writing process, we are quickly engaged in the joy of reviewing and writing about the life transforming results that emerge from our partnerships here in Cameroon.
Of the many reports we've recently written, there are two that we want to share with you. These two reports reveal what much of our work and ministry has focused on in recent years. Our engagement in these ministries is in large thanks to your partnership with us. Whether it's your prayer support, financial support, or simply reading these quarterly newsletters, we are here because of you.
CBC Cooperating Missions
On behalf of the Cameroon Baptist Convention (CBC), we have the privilege of overseeing and serving a host of missionaries, sent by various mission agencies, who are involved in a variety of ministries. A few of the ministry highlights of these colleagues in 2021 are:
The completion of the New Testament translation into the Esimbi language – a project that started back in 1988! Yes, it does sometimes take that long to translate the Bible.
A group of women amongst the Baka Forest People are meeting regularly for prayer, encouragement, and scripture memory.
The skills learned through the surgical and internal medicine residency programs at Mbingo Hospital result in saving lives that would previously have perished.
The long-awaited hydroelectric project at Mbingo Hospital was completed, drastically improving the quality of patient care.
Please read the CBC Cooperating Missions 2021 Annual Report to better know the people we serve and the amazing things God is doing through them.
Cameroon Crisis Relief Fund
For over three years we have been highlighting and reporting on the Cameroon Crisis Relief Fund. Thanks to the generosity of many of you, this fund continues to make a powerful and positive impact on thousands of people affected by the ongoing civil war. Highlights that you'll discover from the CCRF Thirty-eight Month Report are:
More than 330 critically wounded patients have been assisted with payment of medical bills.
More than 2,700 internally displaced children have received assistance to continue their education.
More than 11,800 prisoners have received assistance with food and health care.
Trauma Healing and Resilience training is a growing need and ministry.
Please read the latest Cameroon Crisis Relief Report to learn more of how your generosity is making a positive difference. You can continue to give to the Cameroon Crisis Relief Fund here.
Family News
The writing of our many reports this year involved an added emotional component, realizing that this was the last time we'd be writing these reports. As many of you already know, we will be ending our 23 years of service in Cameroon by the end of June. The decision to move back to Canada is necessary for Calvin's health, but difficult, considering the countless mutually encouraging relationships we've built over two decades. You can read more on this from our NAB missions director and a letter from us at News from the Hohns in Cameroon.
Give to the CAMEROON CRISIS RELIEF FUND.
---
Calvin & Susanne Hohn
PO Box 1, Bamenda, NW Region, Republic of Cameroon
calandsusie.hohn@gmail.com | chohn@nabconf.org | nabonmission.org