Published on August 20, 2020
Click here to view this newsletter as a PDF.
As it says in one of our granddaughter's favorite songs, "Baby Shark," we are safe at last. We have arrived and all is well!
We got back to Mbingo on July 26, earlier than we thought we would, because we were able to get our COVID-19 PCR test done (required by airlines and Cameroon government) with same day results, thanks to a pathology colleague of Rick's in Nashville who helped us.
Thanks to all of you for your prayers for our journey back to Cameroon. We sent out prayer requests to our newsletter list four times before and during travel, and it was so encouraging to get all your responses! Travel was definitely different! Airports were very empty. There were new lines to stand in to submit documents required for negative COVID tests, and several people were turned away who did not have valid results. There were very few choices of food options in airports, but we were thankful for what was there! Wearing masks throughout the flight except when eating was bothersome. When landing in Cameroon, airport staff gave hand sanitizer to each person as we disembarked and sprayed our hand luggage with disinfectant. Then our COVID test results were checked again to be sure the result was negative and within 72 hours of landing. Praise the Lord again for all He did and how He answered your many prayers to get us here!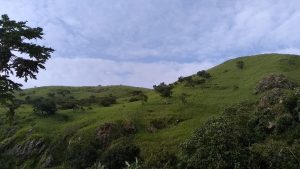 COVID and some lingering war issues did not change the beauty of Mbingo. We have arrived in rainy season, and everything is lush green! We are so blessed to serve in such a beautiful place!!
Our transition back has gone well. We have had the usual dealing with rainy season mold growing on things, and electricity is a problem. Lately it is usually out from 8:00 a.m. to 5:00 p.m. for the staff houses. When the local power supply is out, the generator can carry the hospital, but not the houses at the same time. We are so thankful for friends and workers who helped keep everything at our house in good order. We are thankful our fridge and freezer survived!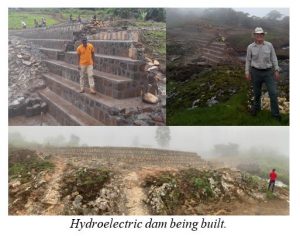 We had a scare last Sunday when the hospital security guard alerted us that there was an emergency in the pathology lab. A pipe in the ceiling of the lab had burst, and water was pouring down in several places and dripping through the ceiling in most of the lab. We got buckets, squidgy mops, towels, and rags and pushed water out for over an hour. Rick immediately went to take care of the telepathology equipment, drying it and covering it with plastic to protect it from damage. By God's grace, the equipment survived. Nancy Palmer and I also dried the slides that were in process and the machinery that was wet. We praise the Lord that nothing was permanently damaged, and all the equipment is still in good working order. God is always by our side!!
---
Prayer
Pray for the hydroelectric project that is well underway, and especially for Dennis Palmer, who is overseeing the project on the ground.
Pray for Mbingo Baptist Hospital administration and the Health Board – for God's guidance in many important decisions.
Pray for patients and caregivers entering the hospital – that they will experience the love of Christ and know Him as their Savior.
Praises
As prayed for in the last newsletter, the telepathology system was able to function well to keep the pathology work going for our entire three extra months in the USA. And it is still working well after the flood! Thank God for all the volunteer pathologists who did cases for Rick during our furlough.
The missionaries you prayed for that were not able to get back to the US were sustained by God and doing well as we met them here.
We are thankful for the extra three months with family and that all are healthy.
We praise God for safe and successful travel with all seven bags intact.
Praise God for low number of COVID-19 cases at Mbingo Baptist Hospital since our arrival.
Praise God that the crisis seems to be reduced in our area.
For I am about to do something new. See, I have already begun! Do you not see it? I will make a pathway through the wilderness. I will create rivers in the dry wasteland.
Isaiah 43:19 (NLT)
In His Matchless Love,
Rick & Debbie Bardin
PMB BOX 42, BAMENDA, NORTH WEST REGION, REPUBLIC OF CAMEROON