Published on November 23, 2020
Click here to view this newsletter as a PDF.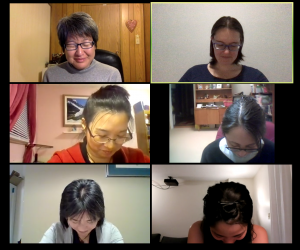 Recently I've been encouraged by Psalm 32:8 as it encourages me to continue to trust in God because He has His eye on me and knows what is best. As we all continue to navigate through these times of uncertainty during this pandemic, trusting in our Almighty God continues to be a theme that He brings.
BLESSINGS OF PRAYER: This season has brought to the forefront the importance of prayer and also the blessing of praying together in community. I have been blessed to be part of a women's prayer group in my home church on Sunday evenings via Zoom. The prayer meeting was started because of the felt need to pray for one another during this pandemic and to stay connected better, especially with not being able to gather together physically. We spend time meditating on God's Word in a Lectio Divina style, and the blessings that come out of that have blessed my soul as each person's personal reflections have taught me so much.
I also have been blessed by the times of prayer I am having with my sisters in Christ in Japan. We recently had a prayer time with the pastors' wives of the Japan Baptist Conference via Zoom. We were supposed to have a retreat this year, but because of COVID-19 we had to cancel, and instead we decided to have a prayer time together. We shared about the difficulties and blessings that this pandemic has caused us personally. For most of us the blessings outweighed the difficulties and we were mutually encouraged. I am also very much encouraged by the prayer times shared with several women I am mentoring in Japan. The sweet fellowship of the Spirit as we pray in Jesus's name is truly amazing. I can look back at my prayer journal and also see that God has answered so many of our prayers. I am truly thankful.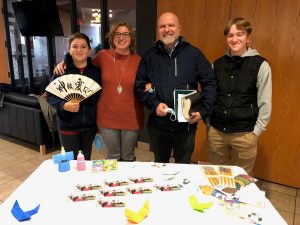 The Greater Edmonton Missions Conference was held October 30–31. What a blessing it was to hear the testimonies of God faithfully being on the move. The Alberta Baptist Association's goal was to raise start-up funds to send the Bergman family to Romania and the Gaudio family to Japan. It is a privilege to get to know Raff and Sylvia Gaudio and their children better while I am on my extended home assignment. Sylvia and I meet regularly to pray together, which has also been a blessing. The Gaudios still need to raise more financial and prayer support. If you or your church are interested in joining their team, please go to:
nabonmission.org/missionaries/raffaele-sylvia-gaudio.
We are hoping that the Gaudios will be able to join us on the field in the summer of next year.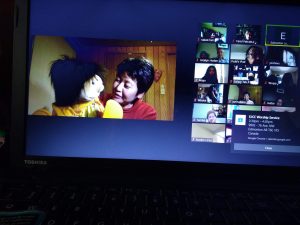 Thank you so much for being part of the global mission and partnering with me through your prayers and support! YOUR prayers have definitely been and continue to be blessings to me. As we enter the season of American Thanksgiving and Advent and Christmas, I pray that despite the "changes" to many of the ways we can celebrate this year, may the Presence of Christ be ever more felt and made meaningful.
With heartfelt thanks,
---
Prayer
For the Gaudio family as they continue to raise prayer and financial support to go to Japan.
For Holy Spirit to work in my pre-Christian parents and healing upon my niece who needs a healthy heart.
That travel plans and entry back to Japan will go smoothly. I am hoping to go back in early January.
For Paul and Melissa Ewing and Shan Reed as they discern how to help the Komyo Church thrive as they transition out of that ministry and seek God's will for future ministry.
Praises
Internet technology and various platforms through which we can interact and fellowship around the world.
My application for my visa is now underway as regulations have lifted for me to go back.
Wonderful prayer time with the pastors' wives of the Japan Baptist Conference via Zoom.
Wonderful times of prayer and mentoring with three women leaders in Japan on a regular basis.
Ministry opportunities and good fellowship across the globe, even teaching a seminary class in Brazil to help out Lyndell Campbell-Réquia!
I will instruct you and teach you in the way you should go;
I will counsel you and watch over you.
Psalm 32:8
---
Yuri Nakano
5712-188 Street NW, edmonton, alberta, t6m 2a5, Canada
Address in Japan:  SHINHINOODAI 2-CHO 2-5-613, MINAMI-KU,SAKAI-SHI, OSAKA-FU, JAPAN 590-0143
nakanoyuri@hotmail.com
nabonmission.org/missionaries/yuri-nakano/