Published on November 09, 2021
Click here to view this newsletter as a PDF.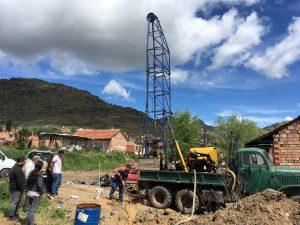 Dear Friends, and Partners,
Greetings from Hungary on a beautiful fall afternoon.
Things are so exciting around here these days! Wish you were here.
You remember the water projects we are doing with the two Roma/M*sl*m villages, Meksiko, and Tribagremi? Well, after lots of starts and stops due to wildfires, land issues, material shortages, fundraising needs, and a need to rework the Meksiko plan, the clean water will be turned on this week in Tribagremi! PTL! If all goes well and we can raise a little more money, we'll be finishing Meksiko very shortly as well. Wow!
Did you know both villages went without even their polluted water for almost three months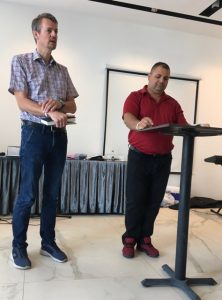 this summer? It all dried up! This new, sustainable, clean water will truly bring health and life to almost 2,000 people.
NAB churches, particularly Calvary Baptist in Easton, Pennsylvania; Hillside Baptist in Dickinson, North Dakota; and Crosspointe Christian in Gross Pointe Woods, Michigan, and several individuals were so very generous in giving this "cup of cold water" to these people.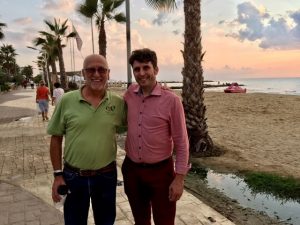 The Community Health Evangelism (CHE) North Macedonia team has also been spectacular in running both projects and sharing the love of the true Lord Jesus Christ. (Remember, M*sl*ms believe that Jesus is only a prophet, second to Moh*med.) I can't wait for the dedication service when the projects are both done. Pastor Jimmy Simon, director of the Galilee Foundation and CHE of North Macedonia, is a powerful evangelist. He will be preaching to the people about the True Water of Life! Already, Pastor Alit, a CHE team member in Prilep, says his church is filled with new people from the two villages. I hope this can happen before Jeannie and I return home to Phoenix on November 23. We'd love to be there!
If you were here, you could have gone to the coast of Albania with us for the annual CHE EuroNet Gathering, September 29 to October 3. The Gathering is when our CHE teams from Central Europe and the Balkans get together for workshops, training, fellowship, inspiration, networking and some rest. In spite of COVID restrictions and protocols all over the region and having to change the location from Hungary to Albania in late summer, 70 CHE people came, including members of our NAB-sponsored MEK Hungary and ZZ Serbia team.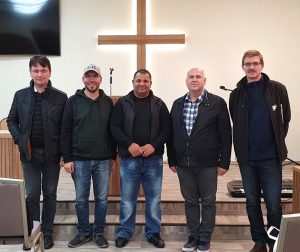 We had an awesome time. Our theme was how to be wholly healthy CHE workers while working to make wholly healthy people, churches and communities. We had enthusiastic round table discussions on various aspects of this theme, as well as practical teachings from our CHE team members who are also pastors. The weather was super for the beginning of October. We even got into the Adriatic Sea for a dip. In Albania, the food is always outstanding. As CHE Central Europe Coordinator, it was my goal to see that our CHE workers went home healthier than when they came. By God's grace, I believe we accomplished that with the help of the wonderful CHE Albania team.
If you could be here in Hungary right now, you would be so excited about what our MEK Hungary team is doing. I can really use the word "team" now. God has been growing the number of MEK staff in the last two years (we know have four full time and two part time, not including Jeannie and me), but, because of COVID and other distractions, we had not meshed into a team. We recently have had the opportunity to dig deeply into organizing ourselves as a team around discovering each team member's spiritual gifts and God-given strengths and using them accordingly.
What a difference it is making! One team, led by Laci Daróczi-Csuhai, is now working in Boldog and is fashioning a one-year plan with the community leadership committee there. We did about 30 Spirit-led evangelistic home visits in Boldog in October. Another team, led by Feri Oláh, has begun door-to-door outreach and sharing the hope of the Kingdom of God with the impoverished residents of the city of Apc. His team has visited about 40 homes so far and has great plans for 2022!
Even better, MEK Hungary has just begun a partnership with the Gödöllõ Baptist Church to collaborate on three potential Roma/Gypsy community projects around Gödöllõ. They start on November 4. A training conference for 25 church members will happen in February 2022. All this activity needs strong organizing, and one of our team members, Sandi Temesvary, has demonstrated a strong gift for administration to make this happen. I wish you could be here and see all this going together.
Since you can't be here, maybe we can visit with you. Jeannie and I will be in the Yorkton–Regina region of Saskatchewan the last week in February 2022, in the Dickinson–Bismarck region of North Dakota the first week of March 2022, and in Winnipeg, Manitoba, the second weekend of March. Let me know if you and your church would like a visit so we can tell you more and show you some pictures and video.
For His Kingdom Come in Central Europe and the Balkans!
Ron & Jeannie Seck
---
3023 N 17th Ave., Phoenix, Arizona 85015, USA
ronseck@me.com | jeanseck@gmail.com