Published on August 19, 2021
Click here to view this newsletter as a PDF.
Dear Friends and Kingdom-expansion Partners,
If you've been keeping up with our prayer partner updates, you'll know that the last three months have been very eventful for us and our CHE EuroNet teams. (If you don't get our prayer updates, write us at our email address below, and we'll gladly add you to our team.)
First of all, no, we haven't gotten our car back yet from the repair shop where it's been for the last 13 months. I've learned two lessons: 1) Mechanics work slowly here in Hungary! 2) Never buy an automatic in Central Europe. The problem is that every Friday they promise us again that the problem with the transmission has been found and solved and they will have it for us by the following Wednesday. It's like Waiting for Godot for you Samuel Beckett fans.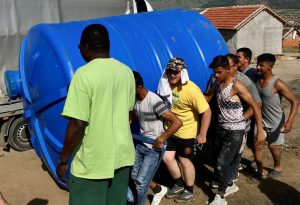 However, we have found ways to work around this problem. We travel around our town of Hatvan on our tandem bike to shop, buy groceries, and swim at the pool. We bum rides to ministry meetings, rent a car once in a while, and fly when we can. Flying internationally during a COVID pandemic is also an adventurous experience, not for the weak-hearted. But we are happy to cope with these challenges because of the exciting work God is doing this summer with us and our teams.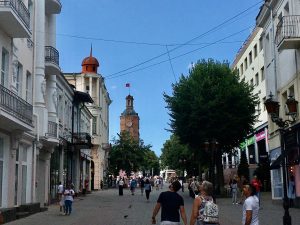 In May, we drove down to North Macedonia in MEK Hungary's old van. There we met up with a courageous NAB Gateway team from North Dakota. Our mission was to join the CHE North Macedonia team in Prilep to start water projects in two Roma/M*sl*m communities of 1,000 people each. The two CHE workers there had done a tremendous job visiting homes, sharing Christ, explaining the hope of the Kingdom of God, organizing village leadership committees, and motivating volunteers to help solve their need for sustainable pure water for their villages. Everyone in both villages knows them!
God used our NAB team to convince the villagers God was sending His help! The presence of Americans helped the Prilep city government leaders see that this water project was "for real" and they promised their help if/when we struck water. Village volunteers were rallied to the projects when they saw the well-drilling equipment and the building materials arriving. One young father said to me, "I thought you were a liar . . . just like all the politicians here. They promise us things when there is an election, but they never do it. . . . But you're doing it!" He smiled broadly. I reminded him, "No, we are all doing it, you and me. And I am doing it for you and the Lord Jesus."
Our team did not get nearly as much done as we had hoped in the two weeks we were there due to typical Macedonian-type delays, but the projects were well on their way. We saw that the CHE team and the villagers were going to see the water projects through to completion much better than we could. By the way, the city is honoring their promises also.
In June, we made a preaching trip to Romania where two NAB churches are forming sister-church partnerships.
Later that month, we flew to Albania. In south Albania, we spent a week with a very dedicated church group. For almost 20 years they have been running a feeding program for children in their village that now had all the problems that ongoing aid/welfare projects do. They wanted to know how our teams were effectively reaching the poor for Christ. We spent the week teaching them the basic lessons on how to start CHE and establishing a partnership with them. Soon they will vote on whether to make the change they need to make.
It was now July, and from Albania we flew to Kiev, Ukraine, and took a four-hour, after-midnight car ride south to Vynitsia. Jeannie and I didn't know what to expect with the war going on in Ukraine's east against Russia-back rebels. We found that Ukraine is thriving, thanks to Vladimir Putin's aggression against it. The country now has its own national identity, and western investment is
Agron Aga, Jeannie, and I were in Vynitsia because God had led the mayor of a nearby village to Jesus Christ through the ministry of a YWAM team and she now wants to see her village transformed. Our mission was to introduce them to the way to do it. If they liked our introduction and are ready to make the commitment, we will return to begin their training. We are praying for an open door for CHE to reach deep into poor communities in Ukraine! So many people there do not know Jesus.
In late June, church meetings were begun in the Roma/Gypsy community in Boldog by our MEK Hungary team, led by Laci and Eszter Daróczi-Csuhai. PTL! I've been doing the teaching in July while our team is on vacation. We are exploring the theme "Be Ready, Jesus is Coming Soon!" from Matthew 24–25.
Jeannie and I will vacation in August, but right now we are preaching in churches, holding board meetings, working on next year's budgets, helping our new teams get established, and planning our CHE EuroNet Gathering that will be held the end of September in Duress, Albania.
Finally, our North Macedonia partners emailed last week that 10 children came to Christ during their Bible Camp in Stip, and our ZZ Serbia Team, led by Marijana Čizmanski, told me they also had 10 who trusted Jesus at the end of their week. Alit, who leads the CHE team in Prilep and pastors the church there, reports that over 50 people are now coming to his little church building since the water project began . . . and they haven't even started their planned open-air meetings that will declare that Jesus is the Water of Life yet!
Oh, and God has some exciting things bubbling for the next few months as well.
Yours for His Kingdom Come!
Ron & Jeannie Seck
3023 N 17th Ave., Phoenix, AriZona 85015, USA
Ronseck@me.com | Jeanseck@gmail.com