Published on May 19, 2021
Click here to view this newsletter as a PDF.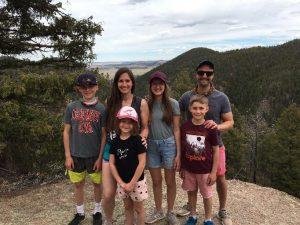 During our time in Colorado, we had the opportunity to walk to a nearby coffee shop one crisp afternoon. It was about a mile walk from where we were staying. On the way back, one of our kids said, "I can't wait to get home so I can warm up." Interesting, isn't it? We have left our home in Canada and we have not yet settled into our new home in Romania, and even in this in-between space and place our kids can call it home because we are here together.
Home for kids seems to be tied very much to people, and yet I find myself tying it to places. I love the idea of tying the concept of "home" to a person or people. What if home was what we felt and knew in our communion with Jesus? What if home was the place of secure love found in walking with the Lord? And although we experience part of that home now, one day we will experience it in full. In a face-to-face reality. Sometimes we talk about our ultimate home being in heaven, "a city with foundations, whose architect and builder is God," (Hebrews 11:10) and I believe this to be true; however, I have also been thinking about viewing our home through this lens of being with a person or people instead of a location. I believe this lens illuminates that one day we shall truly be at home when we are fully in the presence of God and with the people of God. What a beautiful thing to look forward to!
We have really been enjoying our training here at MTI (Mission Training International) and feel incredibly blessed to be in community with a group of people walking similar journeys as us. Within the next six months or so, these 27 adults and 24 kids will be sent out all over the world for the spread of the gospel and to love their neighbors in the places they have been called. The staff here are amazing, and they have shared many words of wisdom and mission experiences that have been equipping us for the days ahead. There have been many times of stretching and challenge, necessary training as we step into life on the field.
We have also had some opportunities to bond as a family and enjoy some Colorado sights on the weekends.
Our belongings have started to make their way to Romania in the sea can, and we have adjusted our date of departure to May 16 so that we can receive our second dose of Pfizer. The Lord was so gracious to us. When we originally inquired about switching our flights, the cost was not within our budget; however, after a day of prayer and giving it to the Lord, we tried again and they explained to us that they would change our flight dates at NO extra cost!!! God continues to be faithful to us in this journey.
We will then begin a two-week quarantine up at the camp, and on June 1 we will move into our place. For the first year, we will be living in a small city, Zalau, which is located about 20 minutes from the village of Szentkiraly and approximately 40 minutes from the camp. We are really looking forward to joining up with the team at Camp Falcon Rock and jumping into summer camp preparation. Please be praying for all of the kids the Lord will bring to camp this summer, that their ears and hearts would be open to receive the gospel and that they would leave their week of camp feeling well loved.
Thank you so much for your continued prayers, encouragement, and support. All of this training has been a possibility because you have come alongside us and invested in the Kingdom of God. We can't express our gratitude enough.
We love you!
Jason, Erin, Dani, Cristian, Olin, and Keli
We are still in need of some start-up costs and monthly pledge partners. If you would like to donate or join our monthly support team, please follow the links below:
Canadian Funds https://my.nabconference.org/default.aspx?page=3432&funds=3095
US Funds https://my.nabconference.org/default.aspx?page=3437&funds=3096