Published on May 07, 2020
Click here to view this newsletter as a PDF.
Prayer
For wisdom as the camp staff and board determines the right course of action for programs this summer amidst COVID-19 and government regulations
For God to increase our faith and trust in His provision
For Hungarian language learning
Praises
For approval and appointment from the NAB
For this season of preparation
For God's continual leading in our lives
For God's peace in uncertain times
"The Lord said to Moses, 'Tell the Israelites to bring me an offering. you are to receive the offering for me from everyone whose heart prompts them to give."

—exodus 25:1-2
Hello!
We are the Bergman family and have recently been appointed by the NAB as missionaries in Romania. We have spent many months discerning and taking steps to get to where we are today! We are just beginning a time of inviting people to partner with us in this ministry. We are so thankful that, as we head into this fundraising season, it is God who goes before us. Just as God instructed Moses to ask for an offering to build the tabernacle from everyone whose heart prompted them to give, we trust that as we ask for people to invest in the Kingdom work in Romania we would also receive from all whose heart prompts them to give. We believe that it is the Holy Spirit that prompts the heart and so we trust God to build our team of supporters in His way and in His timing. Thank you, Jesus, that we do not do this on our own! We know that right now is a unique time to be fundraising, but we are feeling peace knowing that He is faithful and that His plans prevail despite circumstances. We hope to increasingly learn to trust God and His provision to provide in such a time as this. We are looking forward to connecting with people and meeting our team who will walk with us in this ministry through their prayers, financial generosity, and maybe even the delight to work alongside of them physically through the opportunity for them to come with a mission team. We can't wait to meet our community of people!
We had made plans to go to Romania this summer to help out with summer programming and village ministry, but we are waiting on the Lord to see if this is still a possibility.
We are thankful that God is using this season at home to prepare us well for the field. With the extra time, we have been studying the Hungarian language via Skype through the Debrecen University in Hungary. We are also getting a taste of homeschooling (as we may be exploring this option on the field), and we are bonding as a family while being isolated. All things that we believe will be useful training for the mission field.
We have enjoyed getting to know the staff at the NAB International Office as we continue to take steps forward in this process, and we are so thankful for their wisdom and support along the way.
Camp Falcon Rock is continuing to raise funds for the main lodge, with the hope to begin some of the building construction this spring. Missionaries Paul and Tanya Gericke have been completing some projects while they are temporarily making camp their home. They have just laid a patio down for the gas tanks and have moved on to building retaining walls and cabin patios. These patios will serve as a beautiful space for kids and youth to have cabin time, devotionals, and just fun hang out time as they get to know each other and Jesus. So exciting to imagine all of the meaningful conversations that will happen on those patios over the years.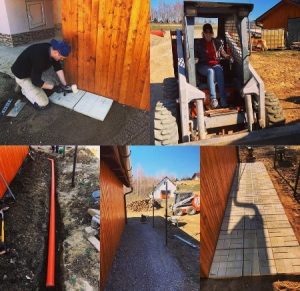 We look forward to having our funds raised and meeting our support community so we can help out with building projects such as these, as well as camp and village ministry. If you would like to hear more of our story or be a part of our team and make a donation or a monthly pledge, please visit: https://nabonmission.org/missionaries/bergman/ or www.rootsinromania.com.
We pray for God's peace and presence in your lives as we continue to walk with our unchanging God in these changing times!
Jason & Erin Bergman
4720 143 Street NW, Edmonton, ab, t6h4c8, canada
bergmans.romania@gmail.com