Published on February 09, 2021
Click here to view this newsletter as a PDF.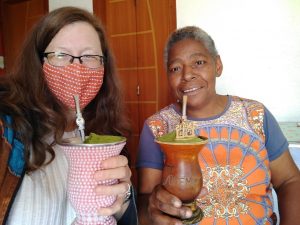 SEMINARY NEWS
Our school year finished in December. With less restrictions, I was able to visit Meire, one of our first-year students, to encourage her and help her with some of her assignments. Meire is a grandmother and a leader of evangelism in her church, and she serves in a ministry for at-risk children. She is passionate about serving in this way, as she lost her son to drugs. Originally, she signed up for two classes, but within two weeks she felt God calling her to enroll in the Pastoral Formation course. She has faced the challenges of going back to school full-time in her fifties and having to learn new technology when suddenly all classes had to be held online. As of the beginning of January, she needed to find a new home and start a new job. There were times when she thought about quitting, but God has been an ever-present help to her.
In December, it was also time to say goodbye to a couple very dear to my heart. Glória, a church planter who was a seminary student when I first arrived in Brazil, and her husband, Renato, one of my students who just graduated, moved to another state to restart a Baptist church that was closed some time ago. It is hard to see these servants and friends moving away, but it is a comfort to know they are following God's leading. Here Brandon and Marci Jones and Paulo and I are having them to our home for supper together with Glória's father and Renato's daughter.
In December, the Rio Grande do Sul Baptist Convention celebrated its 95th anniversary. The NAB has partnered with the Convention for 53 of those years.
CHURCH NEWS
During November, we were able to meet in our church building, following all the government protocols once again. After eight months, it was wonderful to be physically together again. Just when it seemed the world was shutting down, the Lord continued to work. During 2020, our church had the privilege of seeing three couples come to Christ, and one of those couples was baptized by Paulo in December. Praise the Lord!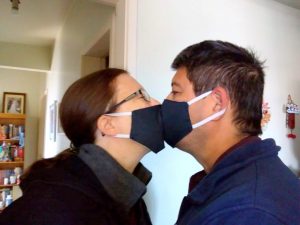 PERSONAL
On November 27, Paulo and I celebrated our tenth wedding anniversary! It seems like just last year we were saying our vows. We feel very blessed by the Lord for all that we have gone through together in these last ten years. In our joy and struggles, we have grown closer and are so grateful to be able to serve in ministry together. Paulo is also joining the Kairos Project as our resource person, as well as a student.
Thank you so much for all your prayers and financial support!
---
Prayer
Please pray for adaptation for the Kairos Project students.
Pray for seminary student Meire as she transitions to a new home and new job and helping to care for her grandchildren while she continues to serve in her church.
Please pray that the new faith of the three couples who accepted Christ (Tony and Roseli, Ivandro and Marilia, and Gustavo and Karina) would grow stronger with each new day.
Please pray that Lyndell will be able to complete her literature review by April.
Please pray for endurance and protection.
Praises
Praise the Lord that He continues to work in any circumstance.
Please thank the Lord with us for all the blessings and the opportunities to serve Him together during these ten years of marriage.
Please praise the Lord for the start of the Kairos Project in Brazil.
Trust in the LORD with all your heart;
do not depend on your own understanding.
Seek his will in all you do,
and he will show you which path to take.
Proverbs 3:5–6 (NLT)
---
Lyndell and Paulo Campbell-Réquia
PORTO ALEGRE, RS, BRASIL
DELLCAMP@GMAIL.COML | NABONMISSION.ORG/MISSIONARIES/LYNDELL-CAMPBELL
If you would like to help fund visiting professors and the Kairos Project in Brazil or help provide a scholarship for a seminary student, please give to:
nabconference.org/give/special-projects/ designating to "Kairos Brazil Scholarships".