Published on November 15, 2022
Click here to view this newsletter as a PDF.
SEMINARY NEWS
During August and September, I was privileged to teach Missions to our 31 students in the Pastoral Formation program. We finished the class just in time for me to travel to Chicago for NAB's Super Week. It started with two days of meeting with the Mission Advisory Team. Then, we joined the Church Planter's Summit group, NAB's Executive Council and pastors and leaders for the annual training event, Bonfire, with speaker Doctor Scot McKnight. He gave us lots to think about and discuss. It was also a great time seeing and making new friends, as well as some good connections for the Seminary in Brazil.
CHURCH NEWS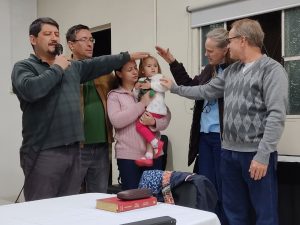 In September, Paulo had his first baby dedication as a pastor. What a joy to participate as Gustavo and Karina dedicated Eduarda to the Lord! Also, three more people have accepted Christ as their Saviour and Lord: a couple, Luis and Marli, and a single man, Marcos. Paulo is discipling them and preparing them for baptism.
PERSONAL NEWS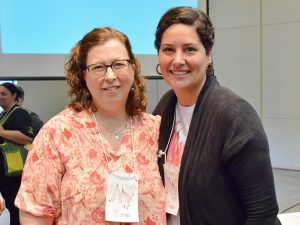 During October, I had the privilege of participating in the bi-annual women's conference for our state Baptist convention. Even though I have been in Brazil for almost 20 years, this was my first time going. The reason being is that up until now, they have always held it at the end of November, which is the end of the school year for the Seminary, making it very difficult for me to go. I had a great weekend, and it was extra special to spend it with my colleague, Marci Jones. Besides being a participant, I was one of the official photographers for the event. Here I am with the other photographer, Ester, who also happens to be the wife of one of our Kairos students.
THANK YOU SO MUCH FOR YOUR PRAYERS AND FINANCIAL SUPPORT!
If you would like to help fund visiting professors and the Kairos Project in Brazil or help provide a scholarship for a seminary student, visit nabconference.org/give/special-projects and click on the appropriate links.
Lyndell and Paulo Campbell-Réquia