Published on February 15, 2020
Click here to view this newsletter as a PDF.
Prayer
 Lord, may we all be healthy and safe during our travels in the US and Canada in February and March. May you increase the level of partnership between us and our churches to reach more Roma/Gypsy for Jesus Christ.
Lord Jesus, as Ron and Jeannie prepare to return to Central Europe on March 24, grant them stamina, health and anointing for the year ahead.
Father, April, May and June will be months filled with travel, work teams and trainings. Accomplish all your purposes and prepare each servant for his coming work.
Praises
Many Roma/Gypsy children and their parents heard the Good News this Christmas Season.
"All people are like grass, and all their faithfulness is like the flowers of the field. The grass withers and the flowers fall, because the breath of the LORD blows on them. Surely the people are grass. The grass withers and the flowers fall, but the word of our God endures forever."

Isaiah 40:7-8
Ron & Jeannie and Laci & Eszter to Visit NAB Churches in US and Canada in February and March
Laszlo (Laci) and Eszter Daroczi-Csuhai, our NAB Hungarian National Missionaries, are coming to the US and Canada soon! Ron and Jeannie Seck, NAB Hungary Field Coordinators, have arranged a joint tour of NAB churches in Michigan, Indiana, Pennsylvania, California, Oregon, Washington, and British Columbia from February 22–March 23.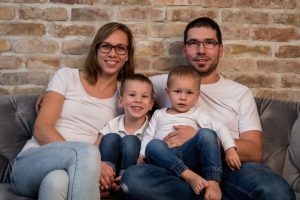 The purpose is to introduce this dedicated and delightful couple to as many NAB churches as possible. They also want to raise awareness and prayer support for the one million poverty-stricken, marginalized, despised, and largely unreached Roma/Gypsy people of Hungary and for their transformative ministry among them.
Through using the wholistic community development strategies of Community Health Evangelism (CHE), Laci and Eszter and Ron and Jeannie are penetrating Roma communities in Central Hungary with the Gospel as well as teaching others to do so as well. They are eager to tell their story to North American Baptist churches of what God is doing in Hungary, Central Europe, and the Balkans.
Here are some highlights of the travel itinerary for the Seck's and Daroczi-Csuhai's. If you or your church are near any of these locations and you would like to meet them, have coffee and hear a report, please contact Ron Seck at (586) 419-8728. We still have a few openings.
February 12–22 in Phoenix, Arizona
Wednesday, Feb 12—Laci, Eszter and their two young boys, Simeon and Jonatan arrive in Phoenix, AZ
Sunday, Feb 16—The Hungarian Reformed Church of Phoenix
Tuesday, Feb 18—The NAB annual Phoenix Gathering near Scottsdale
Feb 13–21—church house groups, neighborhood get-together

February 23–March 6 in Michigan and Indiana

Sunday, Feb 23—Fellowship Chapel, Sterling Heights, Michigan
Thursday, Feb 27—New Beginnings Christian Fellowship, Kokomo, Indiana
Friday, Feb 28 –Sunday, March 1—Detroit Area NAB Mission Conference
Sunday, March 1—Crosspointe Christian Church, Grosse Pointe Woods, MI
Feb 24–March 5—church house groups, individual meetings, pastor visits

March 7–9 in Pennsylvania
Saturday, March 7–Sunday, March 8—Calvary Baptist Church, Easton, PA
March 9–20 in Washington, British Columbia, Oregon

March 9–11—Olympic View Baptist Church, Olympia, Washington
March 12–15—Visiting churches, house groups and pastors in the Vancouver, British Columbia, area
Sunday, March 15—Bethany Baptist Church, Richmond, BC, and Immanuel Baptist Church, Vancouver, BC
March 16–18—Salt Creek Baptist Church, Dallas, OR; visiting pastors and churches in the Portland, OR, area.
March 19–20—Visiting pastors and churches in the Tacoma, WA, region

March 21–24 in California (Sacramento area)

Sunday, March 22—Oak Tree Community Church, Elk Grove, CA
Monday, March 23—NAB International Headquarters, Roseville, CA
Tuesday, March 24—Fly Home
Right now, we are scheduled to visit or meet representatives of around 26 churches. Please pray for our safety, health, stamina, and for fruitful visits.
Our Village Teams Tell the Story of Jesus at Roma Christmas Celebrations
Hungary's version of St. Nicholas or Santa Claus is Szent Mikulas. He arrives in the middle of the night on December 6 and places sweets and small gifts in the shoes of good girls and boys. The Baby Jesus is then given the credit for putting the gifts under the tree on Christmas Eve.
Serbia is an Orthodox Christian country so Christmas often takes place the first week of January according to the Orthodox calendar.
While Jeannie and I were busy in the US doing budgets, writing reports, planning trips, and setting up our travels for 2020, our NAB national missionaries were busy with Christmas outreaches in Hungarian and Serbian Roma/Gypsy communities.
Laci and Eszter's MEK Hungary team, with help from Word of Life Hungary and community leaders, held Christmas programs in Boldog, Apc, and Csány.
Ron and Jeannie Seck
Below are a few pictures of the various festivities.