Published on February 09, 2021
Click here to view this newsletter as a PDF.
When I was doing my Bible study this past week, I came across this verse. I have been pondering it ever since and thought about it in my current context of mission preparations. In this journey, God has been so gracious and blessed us with so many things. Blessings of encouragement, prayer, financial partners, new relationships, reconnection with old friends, getting to know pastors, and learning about our sister NAB churches, just to name a few. However, perhaps there has been an even greater blessing that I have failed to recognize as such. The blessing of being turned from our wicked ways. The blessing of being refined. There have already been so many challenging moments/days/weeks in this journey that have given us the opportunity to see the ugliness of our own hearts. You know those times of stress when things come out that you can normally hold in. This verse reminds me that this is a blessing, an opportunity, a kindness from the Lord. So as the Lord leads us through selling our belongings, making many decisions (big and small), working through the emotions of preparing for goodbyes, and learning to love each other well in the process, may we count it all a blessing. When our hearts show us our own offensive ways, may we speak in unity with King David and ask the Lord to lead us in the way everlasting (Psalm 139:24).
As for an update on the logistics of moving overseas, we are continuing to plan for a spring departure. This will include a one-month missions training in Colorado (April 12–May 8) and then, Lord willing, departure to Romania. This would allow us to arrive in May and help the team at Camp Falcon Rock plan and prepare for summer camps. This would also give us the required time to be in country to get our visas in order to register the kids for school in the fall.
We have an exciting missions conference coming up in February in Detroit that we will be attending virtually and feel so blessed to be a part of it. They have been so thoughtful throughout the planning process and are doing an amazing job at organizing this event. This will take place February 26–28.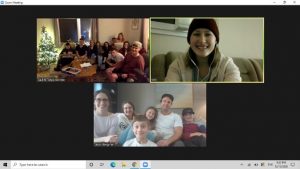 We had the privilege of leading youth group on December 12 with the Romania crew via Zoom (see pic above). We had a blast, and we really felt that it came at an opportune time to remind us of some of what we are working towards. We are excited to serve alongside these guys in the spread of the gospel in Romania.
We would like to finish off by again recognizing the Lord's faithfulness and leading throughout this whole process. We know that we would not be moving forward in this without His power and provision. He continues to affirm us and lead us in humbling ways, and we are so grateful. This past week we had three particular donations come in that upon saying "thank you" we received a response along the lines of "God gets the glory because He prompted this gift!" So thanks be to God, who continues to go before us and is continuing to prove that He is the God He says He is throughout scripture. The God who makes a way!
We are currently at 44 percent, with less than a handful of months away from our projected departure, therefore we still need monthly pledge partners to come alongside us to help us move overseas and participate in the impact God is having on the next generation in Romania. We continue to have faith that God will continue to build our support team until we are fully funded. If you would like to join our support team, here are the links to get set up:
Canadian Funds:
https://my.nabconference.org/default.aspx?page=3432&funds=3095
US funds:
https://my.nabconference.org/default.aspx?page=3437&funds=3096
We are truly grateful for all of you and can't thank you enough for the ways that you are supporting us in this ministry.
Love,
Jason, Erin, Dani, Cristian, Olin, and Keli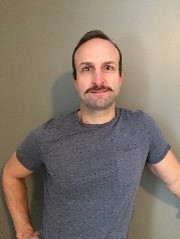 Don't hesitate to contact us at the email address below.
P.S. For all of you that have been wondering, the answer is yes, Jason is growing back his moustache as part of the mission preparation phase!
---
Prayer
Perseverance in the process of selling/donating/paperwork/fundraising/homeschooling/language learning.
That we would be able to travel to Colorado in April and attend the missions training in person.
Continued provision of monthly pledge partners.
Increased trust/faith in the Lord as we prepare to go.
Praises
The support team that God has been building.
Good conversations with our kids about trusting God in this journey.
Encouragement from His people along the way.
God's promises.
"When God raised up his servant, he sent him first to you to bless you by turning each of you from your wicked ways."
Acts 3:26 (NIV)
---
4720 143 Street NW, Edmonton, ab, t6h4c8, canada
bergmans.romania@gmail.com