Published on February 15, 2020
Click here to view this newsletter as a PDF.
Prayer
 For the seminary as it looks into changes in the near future.
For Marci's Dad's health because he has been diagnosed with cancer and has had many complications.
For our family as we are far away from Marci's parents during a critical time.
For Monica and Olivia as they start their new school year and Daniel as he continues through his.
For our continued acculturation to our new language and home.
Praises
We were able to rest physically during the summer break.
We continue to gain more routines as life gets to be more normal here.
Monica and Olivia were able to attend summer camp this year and were surprised at their language knowledge in just one year.
For God is the King of all the earth; sing to him a psalm of praise.

psalm 47:7
Dear Friends and Family,
It is hard to believe that 2020 is upon us. We have now been on the field for 15 months. We arrived just before the summer last year, and this year we have noticed how much easier it is to register and prepare for the kids going to school again this year. Brandon and I have enough language skills to get by with most errands. We can easily read the school calendars and school supply list, and we also know where to go to get the items we need. All of our day-to-day tasks are becoming less overwhelming.
Our girls will start their second year in a Brazilian school on February 17. Monica will be in 7th grade and Olivia in 4th grade. Daniel's school follows a different schedule, so he is already halfway through 10th grade.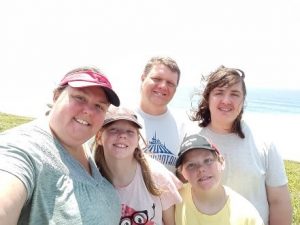 Before the girls' school year ended in December, Olivia celebrated her 10th birthday by throwing a pool party with her classmates. We are thankful for the friends that God has provided to our children.
The end of December and January were a great time of physical rest for our family. Much of the city shuts down for summer break and many people go to the beach for vacation. We decided to do the same and went to the city of Torres, which means "towers." It is named for the large rock cliffs that tower over the coast there. The city is about an hour and a half drive from our house. We spent three days enjoying the ocean and the beauty around it.
We say we have had physical rest this summer because emotional rest is not a reality for us right now. Marci's dad has had many complications since his diagnosis with cancer. He has already had two near-death experiences due to infections in his blood and is currently in a specialist hospital. The doctors have suspended all cancer treatments and are focusing on trying to get him stronger. He is very weak and will not be released from the hospital any time soon. He hardly eats and has not been out of bed the past four weeks. Please pray for Marci's mom as she daily travels an hour each way to the hospital and back. Pray also for Marci's Dad to gain strength and fight through this infection. Their names are Randy and Phyllis Stirewalt.
As a family we continue to attend Igreja Batista Central (Central Baptist Church) here in the city. A few weeks ago as we arrived at church, we noticed that a local gang had tagged the church sign. One of Brazil's largest and most-overcrowded prisons lies just a few miles from our house, and there is much evidence of gang activity all around us. Please continue to pray for the churches here as they are the light in a very dark place.
This past December we had nine students graduate from the seminary! In August we were able to renovate a classroom for the seminary and dedicate it during the seminary's 40th anniversary party. We are now praying that we can continue to renovate spaces for the seminary by creating a second classroom, new offices for our two Brazilian employees, and updating the library, including its collection of books.
Our prayer is that we can do all of this in preparation to launch the Kairos project later this year. Kairos is a program through Sioux Falls Seminary and Taylor Seminary that would allow us to expand the courses and degrees we offer here. Brandon has been working on a proposal on how to work Kairos into our current program for the seminary president to consider. If it is approved, Marci will help with promotion and recruitment for the seminary. Pray with us that God guides us and we would be sensitive to His leading.
As the year ended and we received our annual support numbers, we were so overwhelmed. God has brought us a great team to come alongside His work here in Brazil. We are so thankful for each and every one of you. We are encouraged by your messages, letters, and cards. We are blessed by your special offerings and your generous love. We pray for you often. We are truly blessed!
Brandon & Marci Jones