Published on November 15, 2023
Click here to view this newsletter as a PDF.
Seminary in Ukraine
A few weeks ago, Odesa (not the seminary itself) came under fire. The head of the seminary wrote this to many of us:
Oleksandr Geychenko

Well, it was noisy and scary night indeed. By God's grace and the skills of air defence we survived. Not all. I pray for God's comfort to those who lost their dear ones last night.

We will carry on because this is the only way for us. To give up is not an option. Night missile attacks are aimed at breaking our will to life. I will repeat again – this is a genocidal war regardless [of the] inability of UN representatives to see the signs of genocide. Perhaps these ladies and gentlemen need some ointment for their eyes to begin seeing clearly. When a state attacks sea port and hotel, granaries and recreational infrastructure how else could you name these acts of aggression?

Just compare the targets: the headquarters of Black Sea Fleet vs. civil sea port and hotel; arsenals vs. granaries; military airfields vs. recreational infrastructure. One does not need to be super smart to draw conclusions, does it?

We keep on praying, working and hoping for victory and just peace for Ukraine. No other way.
This reminded me to remind you to keep praying for our associates in Ukraine and Russia.
Even with the danger, the school will have over 190 students. Pray for the safety of the students and faculty. They are offering a special course of study on counseling those under stress. I cannot imagine living in such a situation. Since men are subject to induction into the military, it has become very difficult. There are thousands of men who have not ventured out since the war began.
Over 500 churches have lost their pastors when they fled with their families at the start of the war.
I am reminded of Paul, who wrote these words in 2 Cor 1:7–11: "And our hope for you is firm, because we know that just as you share in our sufferings, so also you share in our comfort. We do not want you to be uninformed, brothers and sisters, about the troubles we experienced in the province of Asia. We were under great pressure, far beyond our ability to endure, so that we despaired of life itself. Indeed, we felt we had received the sentence of death. But this happened that we might not rely on ourselves but on God, who raises the dead. He has delivered us from such a deadly peril, and he will deliver us again. On him we have set our hope that he will continue to deliver us, as you help us by your prayers. Then many will give thanks on our behalf for the gracious favor granted us in answer to the prayers of many" (NIV).
The Baptist Church of Ukraine has a goal of planting 1,000 churches starting now. The seminary is part of that plan.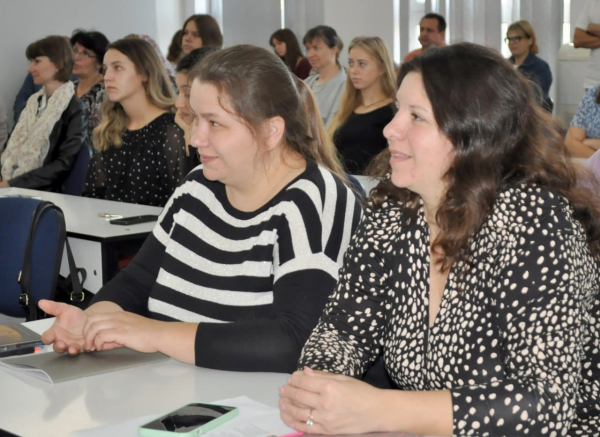 If your church wants a needed project, a gift we would love to send is a $5,000 share in this project. They are looking for us to help in training new pastors and leaders.
The ministry for women through the seminary is going forward.
Learning Center in Novokuznetsk
About four weeks ago I met in person with Victor Federoski, the director of the learning center where many of our teachers have gone in the past. We met in southern Turkey. I was able to bring some financial support for the school. They have 29 students this fall. They need a new place to meet in the future, so pray this can be done.
Here Victor and his wife were able to come for a few days. I was happy to see my brother in Christ.
I engaged Alena Krysantyeva Tiutiunck as a translator in Khaborosvk. She is temporarily in Turkey with her husband and children, waiting and deciding where to go permanently as they cannot return to Russia. A difficult decision to leave family behind for safety. Pray for them.
I never expected the sudden change in the Middle East. Praise God we could keep relationships for the future.
Gary Clatterbuck