Published on November 14, 2023
Click here to view this newsletter as a PDF.
Happy Fall, Everyone!
It is fall, which means school year ministries have begun! There was a little break between summer camp ministry and fall kickoff, but not much. We were excited to jump into youth group ministry again after being away for the last year on our home assignment. Over the school year, we run a junior youth program, as well as a young adult program in our village through the church. What was exciting to see was how the Smith family, who looked after this ministry while we were away, were able to grow the junior youth program! So much so, we now are running two junior youth groups to better disciple all the teens coming to this weekly program. Even more, it is encouraging to see so many Roma youth from our neighbouring village come to our youth group each week. As ministry expands, so does our leadership team. As you probably know from our recent documentary (www.rootsinromania.com/documentary), Miriam is continuing to work with the NAB mission as a national missionary. Miriam has taken over the lead role in overseeing the two junior youth programs and teaching English. It's an exciting new dynamic where we now have the opportunity to support Miriam as she steps into greater leadership roles. It's incredible to see her discipleship of the youth coming to these programs, as well as the teens love of Miriam!
Our young adults program looks a little different this year, as a few of our youth have gone off to college or have jobs in other parts of Europe. To try to stay connected with our young adults, we've begun to run our weekly program both in person and have those away Zoom in (see the picture above). It's been an impactful way for us to stay connected as a group and also continue to support and disciple those away from the village as they dig into new communities. This year we asked our crew what they wanted to study and dig into as a group. They requested to study a biblical view of pain, suffering, and mental health, so we're looking at a pastoral book, as well as the book of Job, for the next few months. Pray for us as we wrestle with the Good News of Jesus in the midst of the pain we experience in our lives.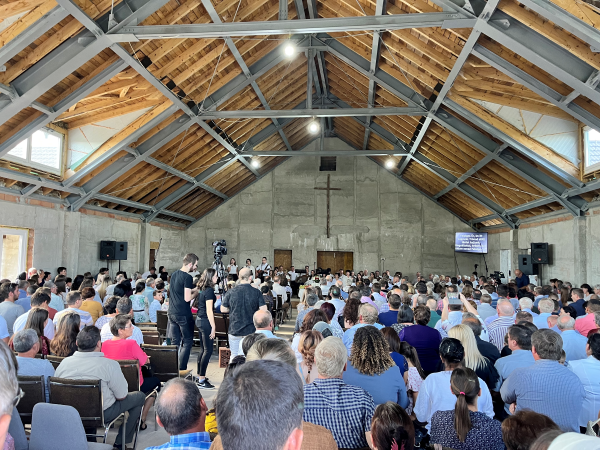 A couple of big events took place this past fall. One was our annual Camp Falcon Rock Thanksgiving celebration. We had over 800 people come to camp to attend a three-hour service, complete with a full band and choir. We heard testimony after testimony of what God is doing here in Romania through the Hungarian Baptist churches, as well as at Camp Falcon Rock. This service was a special time for us, as it was a quick way for us to reconnect with a lot of people we hadn't seen since being away on home assignment.
Another event that we were able to be a part of was called "Mission M," which is a mission focused on organizing prayer and worship events for all generations to come together and seek refreshment in their walks with the Lord. We were able to lead some worship for the event, and Paul was able to speak a word on what it means to follow Christ, whether making that decision for the first time or continuing on in our journeys with Christ. It was a powerful evening where we saw God move in people's hearts, including one of our junior youth teens who came to the event with us. Praise God for the way he continues to call this next generation to follow him!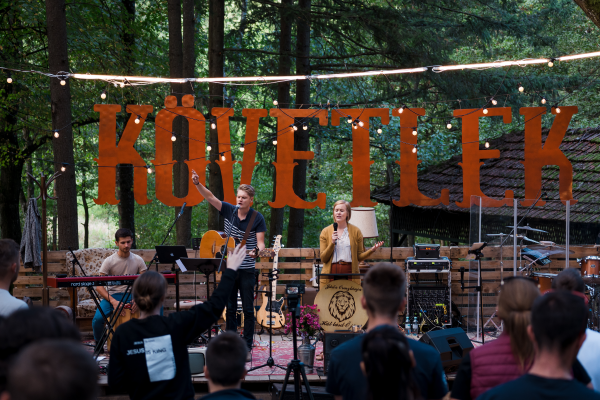 Finally, we had a mission team come this past October from Bismarck Baptist Church to work alongside their sister church in Romania. The two churches have been working together to plant a new church in a Roma village where the Hungarian pastor has been doing outreach for the past number of years. Bismarck's team focused on two jobs: one, helping with construction of the new church building going up in the village; and two, running an after-school VBS program to continue to reach the kids and youth in the village. An impactful part of their trip was being able to be a part of a baptism service at the new church site where an elderly couple who recently started to attend the church decided to get baptized together. What's neat about sister-church partnerships is seeing NAB churches partner with our Hungarian Baptist churches around one unified mission, in this case reaching people in a Roma village with the gospel! This is the type of multiplication that Camp Falcon Rock continues to help facilitate in Romania through the NAB and HBC partnership!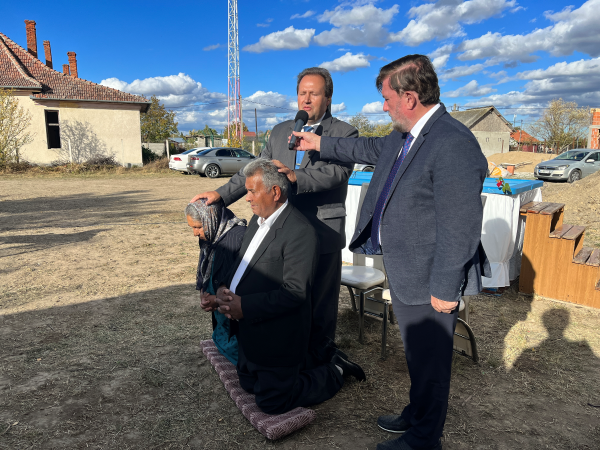 Thank you for all of your prayers and care for Camp Falcon Rock summer camps! We are grateful to have each of you as partners in this kingdom ministry.
Grace and Peace.
Paul & Tanya Gericke