Published on February 14, 2023
Click here to view this newsletter as a PDF.
Dear Friends and Family
When we wrote our last newsletter, we were anxiously waiting to confirm some meetings with Walter Grob and the new accountant for our LRPG in Nigeria. The latter is a young woman who spent the last two year separated from her family in order to study accounting, and now the organization has someone trustworthy with financial training to take over some of the work. We had successful training/meetings and were also joined by Maureen Moody, our current field director, and a handful of other leaders for some very fruitful discussion times.

(Nurse) Maureen made sure I went up to the hospital when my asthma got unusually stressful, and after one round on the nebulizer and full dosage of my other asthma meds for a week, I was back on my feet and have had no issues. We continue to protect our LRPG members, so you'll have to understand the limited people photos we include.
The big event coming up as we write this newsletter is a week of leadership training with LRPG leaders. Leadership development plans were stymied first by COVID and then by various security issues, so this is the first time since some serious planning in 2018 that we are making headway in the area.
One of the people who came from Nigeria was a young woman who has completed secondary school and wants to go into nursing but does not have the means. So, she is staying here in Banyo and working for us as house help. We are expanding her life experience in various other ways, and she ours. She is a great blessing to me and a joy to have around and has greatly lightened my workload. She fits in well with the other young people in our small youth group as well.


Christmas seems to take me by surprise each year, as I can't seem to get used to hot climate Christmas. Instead of outdoor Christmas lights, we have the spectacle of the grass burning that goes on around us. I did decorate my house a bit, made some Christmas cookies, and prepared for the annual tradition here of a Christmas worship service followed by a potluck lunch. We had over 50 people and was quite nice. A number of families allowed their children to join us even though they did not, so we hope the story of Jesus is planted in these children's hearts.
Over the Christmas break, Lisa and I also went with the youth up the mountain, and after practically sprinting up the mountain, the youth explored the top region while they patiently waited for us to arrive.
You should not be surprised to know that missionary housing, like all housing, requires upkeep – it just looks a little different here and has a lot of variables.


This year it was time to replace the grass roofs of the three bukaarus in our compound. This messy work got done between our meetings and Christmas and hopefully will be good for a few years. Zinc roofing is an option, but I think the grass is cooler – literally and figuratively.

We also continue to try to upgrade the electrical; this house has a history – solar only, solar/public grid, public grid via hospital, and now public/hospital plus generator backup. The previous hospital electrician described my electrical switchboard as 'electrical gymnastics,' and we recently took steps to clean it up and it is MUCH better.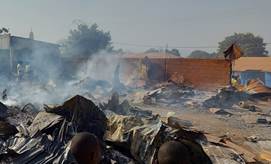 Poor electrical work was the cause of a recent fire in the main market in town that destroyed a huge swath of small shops and stores. No lives were lost, but many people lost their livelihoods. People are surprisingly resilient, although certain supplies and services are hard to get.
Jeff recently successfully completed two online classes – the African version of online involves WhatsApp. While he did not miss the terrible travels to get to a location, he misses the face-to-face interaction with students, as many of you students and teachers around the world can attest to after COVID-19. He has a few more to do this year, ending late July.
My work at the school continues to have endless challenges. One practical issue is that we have visually and hearing-impaired students in the school, but none of the teachers have formal training for this. Pray for teachers and trainers who can assist in this area.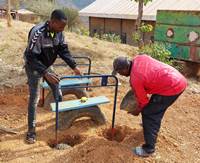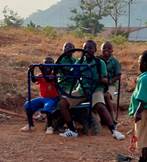 Other projects I dabble in are making headway. We've made a long jump pit, leveled three dirt badminton courts, and are starting to add some extra features to the playground using old hospital equipment (recycling junk – my favorite!). My adult badminton group has found an unused space that is an improvement over our dirt court, and we recently painted all the lines and began playing there.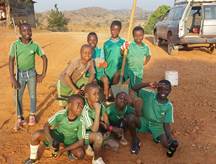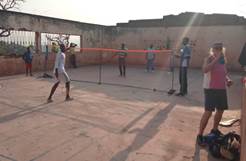 Jeff and I are making headway on plans for a short home assignment this year – likely August to December 2023. We are starting with the churches we could not visit in 2020, so please be patient if you have not heard from us yet. Meanwhile, please discuss in your churches ideas for a short-term missions trip to come, visit us, meet the people, and see the work, so we can advance that when we visit you.
Please also hold onto your retired Android cellphones and tablets/iPads (in working condition with good batteries) for us to help our partners with. Laptops are useful as well, but they are a bit harder to bring and MUST have a good battery, and at LEAST Windows 8 OS. Our last extra went to the new accountant!
You can also help by giving to the Least Reached People Group Special project fund on the NAB website, which funds education, evangelism, and community development projects in both Cameroon and Nigeria. Thank you to those of you who have given faithfully and generously to this work.
Thank you for continued support and partnership.
Jeff & Sonya Kilmartin