Published on August 10, 2022
Click here to view this newsletter as a PDF.
Dear Friends,
Greetings from Banyo, Cameroon, where I am enjoying/suffering being a bachelor again, along with my friend Suleymanu. His wife and children have gone to visit relatives in Nigeria, while mine has gone to do the same in Canada.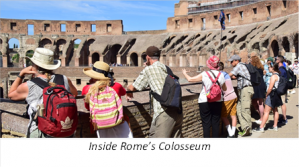 I am immersed in seminary work here, as I have been for much of the past several months now. A while after we came home from Nigeria, though, we did have the opportunity to gather with all of our NAB missionaries in Rome for a missions retreat. It was so unique to be together with all our missionary colleagues, as well as the NAB leaders from the International Office, with little pressure other than to decide how to spend our free time.
We enjoyed great weather, worship, fellowship, food, and of course, many of Rome's historic sites. Strangely enough, we haven't got any our great pictures from that trip to include in this newsletter. They're somewhere, but not accessible at the moment as Sonya and I collaborate on this newsletter across the ocean from each other.
Very soon after Rome, I was in Douala for two weeks, teaching intensive courses on Old Testament and New Testament Theology. That was a ton of fun, I will say, and the class and I really enjoyed our time together there. I am now preparing a course on the Torah, which I will teach in Mutengene, along with a course on Apologetics. Before then, I will teach for a week in Lingam on early Church History before joining Sonya in Canada for various family events, including a family reunion on Sonya's side, our daughter Cari's wedding, and a visit to my mother.
By the time this goes to press, I will have attended a conference down in Bafoussam and will have given a workshop on the leading of the Holy Spirit to the National Ministers' Fellowship Conference of the CBC. They say this topic is a source of great confusion here, as it is in North America, so I hope to be able to shed some light on the subject.
The bad thing is, while I was in Douala – away from Sonya's good cooking – I most likely ate some stuff I ought not to have, and since then I have not been well. The past couple of weeks I have been actually sick, both in the hospital and in bed at home, so I lost about 10 days of preparation time. Thanks to some timely advice from our fellow missionaries, Dr. and Nurse Rick and Debbie Bardin (stationed down in Mbingo, Cameroon), I am now well on the mend, and (mostly) back to work.
One of my worries is that my intentional language learning has gone a bit by the wayside, first because of my heavy schedule and then due to sickness. Fortunately, there are still lots of folks around here I can talk to every day, so the learning, slow though it is, is still taking place.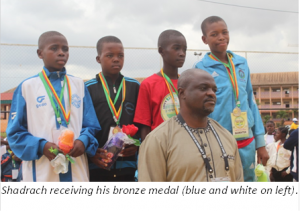 Around that same time as my return from Douala, Sonya joined her badminton players and the Headmaster at the FENASCO B Games. There was an unfortunate amount of politics, which disqualified our two girls and made it impossible for us to compete in the larger team event. As well, there as an attempt to exclude our deaf player (which made no sense as Cameroon has an official policy of inclusive education). But we made a lot of phone calls that first day and had some powerful connections, and Shadrach was able to play and tied for the bronze medal in individual boys singles.
Thereafter, Sonya took an arduous trip on public transport to Bamenda for some meetings, and then back to Banyo. The 360-km trip from Bamenda to Banyo took 16 hours, complete with two breakdowns, ending with me finally coming to collect her and her travel companions in the rain and mud about 5 km out of town.
This is what people normally suffer in order to travel the unpaved roads up to Banyo, especially during rainy season, and it is exhausting. We are grateful we don't travel that way often.
The school Sonya is involved with has a large turnover of staff next year, and a few other challenges, so pray for wisdom for the board and for new teachers who are committed to excellence. They are unable to find teachers with sign language training so are planning some workshops to increase overall sign language ability among many people in the area, including the teachers.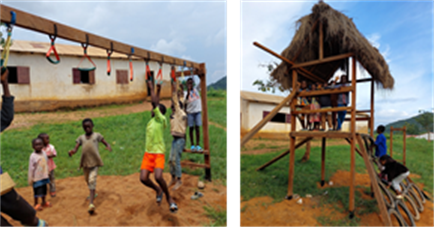 Sonya crammed in some work with her local group of volunteers in order to launch the first phase of a small playground and then took off to Alat for three days to help with the first part of a children's program – a blend of camp and VBS – for kids from our Least Reached People Group (LRPG).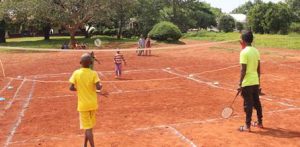 She helped with games by teaching them badminton the days she was there (as well as a session or two with some of the local kids), teaching some Scripture songs in their native language, and a bit of observation of the Bible lessons and discussion with the teachers, since the goal is to get the leaders to run this kind of program in a contextualized way that works for them.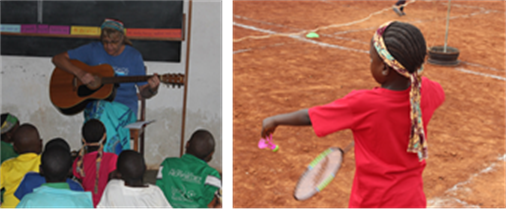 Sonya also has been doing a little bit of editing with one of the SIL missionaries and our language helper, and they recently completed the editing for the TEE 'Following Jesus' in the language of our LRPG.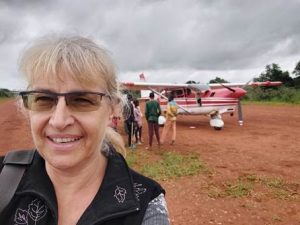 She managed to catch a somewhat turbulent rainy season ride to Yaoundé with the SIL mission plane (although not as eventful as another road trip would have been), a great flight though Europe, and a very confusing connection from Montreal, arriving in Winnipeg to spend a few days with Robert, Leah, and Daniel (the latter at Camp Nutimik!!). She got quite sick a couple of days in, and when a Covid test came back negative, she self-diagnosed and treated for malaria, and at the moment she seems to be back on her feet. At press time, she should be in Edmonton visiting family and helping with wedding preparations.
The work with our LRPG partners is also going on – too much to clearly talk about, really. A few things to seriously pray about: this is a very difficult time for many of them. As food prices around the world have gone up, so have they here, and some families are not able to even have one hot meal a day. As well, the doctor that has been at the health clinic is getting married and has given her resignation. As in North America, it is not easy to hire doctors here, so pray they can find a good one soon (they actually have one in mind, but negotiations are ongoing). Added to all that is a bit of a financial crisis in Nigeria, as our partners need to attain a bank certificate allowing them to receive funds from overseas (to ensure there is no corruption and so on), but the granting of the certificate has been held up – most likely due to religious reasons. Thankfully, many of you have been praying and they have recently gotten their account unfrozen, but the long-term solution remains an item for prayer.
If you are looking for practical ways to help us, remember that we can use your old Android cellphones, if they still have a good screen, have a half-decent battery, and can manage WhatsApp and email, as well as tablets/iPads in working condition.
There is also some need for laptops, but they are a bit harder to bring. Please reach out to us if you can find a way to get any donations to Edmonton during the month of August so we can take them back with us. Or, there's always next home assignment. . . .
Also, while we ourselves are currently fully funded, you can also help by giving to the Least Reached People Group Special Project fund on the NAB website, which funds education, evangelism, and community development projects in both Cameroon and Nigeria.
We should be returning to Cameroon together in mid-September, and Jeff is supposed to teach another extension course in the southwest region before we return to Banyo as we head towards the next dry season.
Thank you for partnering with us in prayer and financial support. We pray that God blesses you for that and give you grace and wisdom in whatever place He has planted you to minister as well.
Jeff and Sonya Kilmartin