Published on August 10, 2022
Click here to view this newsletter as a PDF.
Currently in North America for an abbreviated Home Assignment, I've had the privilege of visiting many individuals and several churches. While there has not been sufficient time to visit all, my desire and intention is to connect with those missed in another two to three years. Due to end-of-year exams held in the October–November timeframe, I've arranged to return to Cameroon the first week of October.
During this time of Home Assignment, it has been possible to participate remotely in four separate oral exams of CIMS residents via Zoom. As the residents involved had been on probation, their exams were out-of-phase with their peers. Personally, it was nothing short of amazing to consider how technology has advanced since 1992. After arriving in Banso some thirty years ago, a simple phone call from home had to be arranged well beforehand and was just as likely to fail as to succeed. At that time, I recall borrowing the keys to the only office in the hospital's administration with a landline. After a pre-arrangement made weeks before, I would sit by the phone at the designated time – typically on a Sunday afternoon – wondering if my parents would be able to get through. Even when successful, the connection was often poor. Eventually, along came email, cell phones, and most recently online video sessions.
In late July, we had a marathon Zoom session with colleagues in Cameroon. Having read through the applications submitted by doctors applying for the Internal Medicine residency, seven applicants were chosen for interviews. All seven traveled to Mbingo for this purpose on July 20. I appreciated having the opportunity to participate in these interviews via Zoom. IT personnel at Mbingo helped with preparations – as we knew this Zoom session would last for several hours.
During the oral exams, conducted previously, we had only made use of audio capability in an attempt to preserve the hospital's bandwidth. For the interviews, however, we activated the video function on Mbingo's end – hoping for an opportunity to view the candidates. For the most part, reception was good enough to allow me to see each candidate while offering questions alongside the local panel. Our panel consisted of the Senior Administrator, the Chief Medical Officer, two CIMS faculty physicians, the Head Chaplain, and the Dean of the Baptist Institute of Health Sciences – who was then in Australia and also joined remotely. We looked at the academic record of each applicant while asking questions about their faith.
When one of the applicants stated that he was a Christian since birth, we espied a problem! We did not take time to correct him during the interview, yet I mentioned to the Head Chaplain that, before the candidate departed Mbingo, it would be important to speak with him to help him understand that all of us are born with a sin nature that separates us from God, that Christ Jesus came to suffer the penalty for our sin, and that – as He explained to Nicodemus in John 3 – we must be born again. Since we require candidates to be followers of Christ Jesus, this applicant was not chosen. Nevertheless, we hoped that the time spent at Mbingo by the candidates afforded each one an opportunity to be challenged in his or her understanding of who God is and the lengths to which He has gone to redeem mankind.
In the course of the interviews, another candidate asked the panel about security at Mbingo. To that, the Chief Medical Officer replied that our reliance has been on God. The CMO further commented that amidst the conflict, while a few hospital workers have seen their homes damaged or destroyed, no hospital staff has been killed or sustained serious injury. For this we thank God.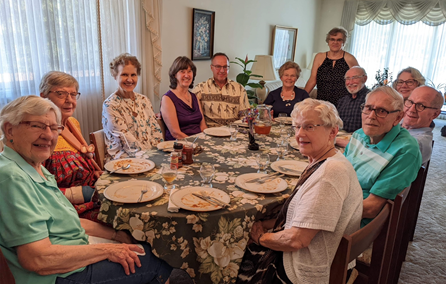 While in Alberta, there was a lovely opportunity to gather with fellow missionaries – most of whom had worked in Cameroon. As a special concession to the Cameroonian contingent, we enjoyed a Cameroonian dish: peanut stew with chicken and rice. Our hostesses were Carol Potratz and Brigitte Bewernick.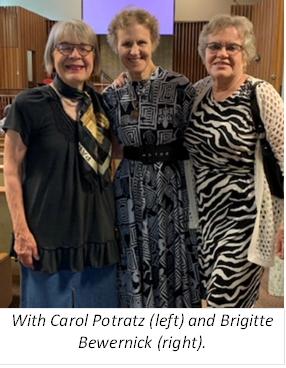 Attending the chuckwagon races in Strathmore was also a special perk! My thanks goes out to so many for your kindness and hospitality!