Published on May 19, 2022
Click here to view this newsletter as a PDF.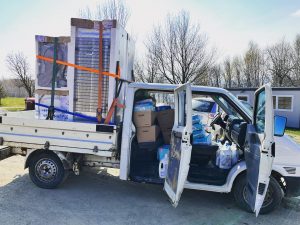 We want to let you all know that we are safe here in Romania, but we are heartbroken by what is happening to our neighbouring country. We are located just 130 km from the Ukraine border, making this invasion close to us in many ways. To date, over 5.5 million Ukrainians have been forced to flee into Poland, Hungary, Romania, and Moldova. Very quickly, NGOs, local businesses, churches, and individuals responded to the sudden influx of refugees, including here in Romania. Families fleeing were spending 2–4 days waiting in border lines, in freezing temperatures, to try and get out. The border guards continue to force all men aged 18–60 to stay in Ukraine, meaning most of the refugees who have been making it out are women and children who have had to say goodbye to dads, husbands, and brothers.
Since the beginning of this war, Paul and I, along with the team at Camp Falcon Rock, have become connected with a network of local NGOs/foundations who are working together to transport and place refugees as they come in based on group size and which border they cross. Over the past two months, Camp Falcon Rock has been receiving and hosting refugees, as well as helping refugees as they determine what is best for their situation. Paul and I have put our contact information out there, and each day we get text messages and calls from various individuals needing housing for themselves or friends crossing the border. We then connect with the network and work together to determine which place makes the most sense for the family or group to stay.
One other way we have been helping with the Ukrainian refugee crisis is by going into Ukraine with relief goods for IDP shelters that have popped up in Western Ukraine. The Hungarian Baptist Convention of Romania, whom we work with, has been partnering with their sister conference in Western Ukraine. These sister churches have been setting up IDP centers to host those fleeing war areas but not wanting to leave Ukraine. Because of all of your generosity toward the NAB World Relief Fund, we have been able to drive across the border into Ukraine to bring these churches resources to help them look after those in their care.
A light in the midst of this darkness happened at the end of March. Camp Falcon Rock has been hosting thirteen international student refugees who had been studying in Odessa. Each student has a unique story of how they ended up moving to Ukraine to study, as well as how they managed to flee the war and end up at Camp Falcon Rock, but one story in particular stands out as a powerful testimony of God working in the midst of this devastation.
One of the refugees, a young woman from Nigeria, moved to Odessa to study medicine along with a couple of her siblings. In the midst of establishing her new life in Ukraine, she got connected with a church plant aimed at serving international students in Odessa. Over the past year as she connected with this church and the pastor, she felt called to get baptized. The baptism was all lined up to happen at the beginning of March, but of course it needed to be cancelled. She quickly fled Odessa to Moldova and eventually made it to Camp Falcon Rock.
As the camp team worked with her and kept in contact with her pastor from the international church in Odessa, an opportunity came up. Her pastor was able to come to Romania and perform the baptism at Camp Falcon Rock! This was a beautiful moment – a light in the midst of the darkness. This young lady shared her testimony, as well as a powerful poem about what God has done and is doing in her life. Her siblings and friends staying at Camp Falcon Rock led some Nigerian worship songs as she publicly confessed her devotion to Jesus as her Lord.
In other news, we are so excited to have Elsie join our team in Romania!! Elsie arrived on Thursday, April 28, and is now getting oriented in her new home and role here. She served as an NAB missionary in Cameroon for twenty-five years, teaching missionary kids. Elsie brings an incredible wealth of knowledge and experience to the Romania field and will be a huge help for the Bergman family and their kids' education. Pray for her as she transitions and we walk her through life and ministry in Romania.
Thank you for continuing to pray for us! Your love and care is felt and so appreciated by us.
Paul & Tanya Gericke
---
7336 149A Street Surrey, BC, Canada, V3S 3H3