Published on February 20, 2022
Click here to view this newsletter as a PDF.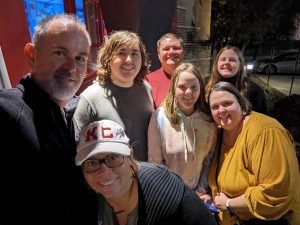 We often tell our kids that the greatest indicator for God's faithfulness in the future is his faithfulness in the past. This is a message us grownups need to hear often, too, and in the last couple of months we have seen God's repeated faithfulness to our family.
In November, we had our final church visits of the calendar year, followed by a weeklong Debriefing and Renewal Program at Mission Training International in Colorado. The program included different tracks for adults, teens, and kids, and we are thankful how God reminded us both of the challenges and joys of being cross-cultural partners with him.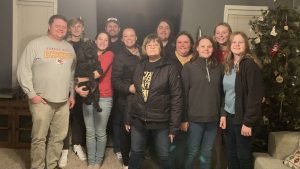 In December we were able to spend some time with our families. We celebrated Olivia's 12th birthday with a trip on the Polar Express in Branson, Missouri. She loves how her birthday switches from summer to winter depending on where we are living at the time. We also briefly saw Brandon's sister and brother-in-law in Kansas City in December. And then we spent Christmas in Boise, Idaho, with Marci's sister and family, along with Marci's mom, who joined us for the trip. Marci's sister has three kids that are similar ages to ours, and it isn't often that the six cousins get to see each other. Last time we all visited Idaho, the cousins were little kids playing in a small inflated pool. This time they were teens driving to shopping malls and getting smoothies. What a joy it has been to allow the kids to make new memories with their family.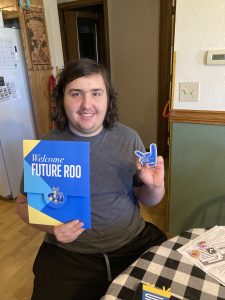 January was a month of preparations. Before returning to Brazil in June, our visas had to be renewed. Part of that process entailed Brandon returning to Brazil to register his renewed visa in-person at the Federal Police. International travel has become even more stressful with added COVID restrictions and requirements between countries. There was much prayer and anxiousness in the family as we walked through this process and waited for the final approval of visas. And once again God has been faithful through it all. Everything worked out as Brandon went and returned. Four of the five of us are now all set to return for our second term in June. Daniel will be staying in the States to begin his undergraduate program in history at the University of Missouri–Kansas City in the fall.
Even though we are on home assignment, the seminary continues to meet, and the students are still working through their courses. In December, we saw another class graduate. Every year the class chooses a professor or pastor who has been significant to the program, and they name the graduating class in honor of that person. To our great joy and surprise, Brandon was asked if the class of 2021 could be named in his honor. This was the first class of students that Brandon had been with from start to finish. Brandon has also continued to mentor his Kairos students on a regular basis. The students are doing well and are adjusting to the different format of Kairos.
We are also excited to let you know that our partners, Lyndell and Paulo Réquia, have joined us to launch a new website: www.NABinBrazil.org. This new site has replaced our old personal site, TeachingBeyondBorders.org, which is now offline.
Our spring travel calendar is full, and we are looking forward to connecting with so many of our wonderful partners in the coming months. As we look ahead to Easter, we think of God's faithfulness in raising Jesus from the dead and, because Jesus is the firstfruit from the dead, we know God will one day be faithful in raising us from the dead. As new life bursts out of the ground this spring, may we all think of God's ever faithfulness!
Blessings,
Brandon & Marci Jones
---
Avenida Cristóvão Colombo, 3452/201, Porto Alegre, RS, 90560-002, Brasil