Published on August 19, 2021
Click here to view this newsletter as a PDF.
Jesus's words to His disciples in Acts 1:8 remind us that we should first be witnesses in our home turf (to the disciples, it was in Jerusalem) and then to neighboring areas ("Judea and Samaria") and then "to the ends of the earth." Over the last twenty years, BCCL has equipped almost a thousand church leaders to reach their "Jerusalem" or home turf; and now, reaching "Judea and Samaria and the ends of the earth" is unfolding right before our very eyes!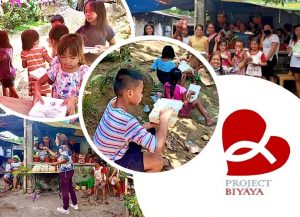 Home Turf Outreach Intensified
Last July 1, we launched a ministry that would mobilize our students and help support their local outreach ministries. We called it Project Biyaya. Our aim through this ministry is to provide warm meals (up to 100 packs per outreach event) together with Gospel tracts as evangelistic tools to help and encourage our students' local mission efforts.
Pastor Gigie (see picture) was the first recipient of this evangelistic tool last July 1. She used it in a coastal community called Purô in Legazpi City. Last year, she started sharing the Gospel and leading Bible studies to two families in the area. Over a span of one year, the two became eleven families. The Project Biyaya meals and tracts provided an occasion for her to attract more people in the community to gather and hear the Gospel. She hopes to start a house church in this community soon. Brother Nelson was the second recipient of the Project Biyaya food packs last July 9. His outreach ministry was in a place called Alcala in Daraga. They reached out to almost 100 people in this community, mostly youth. He excitedly informed us that several people surrendered their lives to Jesus that day. Their church will soon be planting a daughter church in this community. The most recent outreach event that we helped last July 30 was by our student named Annabelle. She and her team from church have just started reaching out to fifty kids in a place called Sipî in Daraga. Other students are eagerly lined up to avail of this evangelistic outreach tool in the months to come. We continue to ask them to pray with us for continued provision for this ministry. Each food pack with a tract cost $2.
Millions of Filipinos experienced involuntary hunger over the last two years due to the pandemic. It has also been quite alarming that more Filipinos (who are known to be quite resilient amidst hardships) are committing suicide because they can no longer feed and provide for their families. The needs are both spiritual and physical. This prompted us to formally launch Project Biyaya (biyaya is the Bicolano word for blessing). BCCL would like to intensify its local mission involvement and use this opportunity to encourage our students in their ministries, as well as mentor them along the way.
We pray that we can grow our Project Biyaya missions fund to not just support local mission efforts (our "Jerusalem") but to eventually help send out our students cross-culturally to the nations ("to the ends of the earth") as we hope to launch a missions training curriculum in the near future. Please pray that God will continue to financially provide for Project Biyaya so that we can help more local missions efforts and feed more Filipinos (physically and spiritually) year-round.
Please pray with us for generous hearts who would like to team up with us by giving to this ministry to reach more Filipinos for Christ. Thank you so much!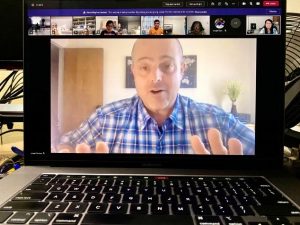 Our Immediate "Jerusalem"
We have recently started a new office culture where the staff would do daily huddles (brief Bible studies and prayer time). I would join them online on Wednesdays (PHT) for updates and to encourage them and to pray for them. Our office staff are all passionate church leaders and BCCL alumni. They have included our two cleaners, Vivian and Sally, in their daily huddles and have been sharing the Gospel to them through this. Guess what? Last July 28, they decided to follow Jesus! Now the staff are eager to disciple these two new sisters in the Lord, praise God!
Training Diaspora Filipinos?
When I posted our recent online class on Hermeneutics (July 19–29) on Facebook, pastor Ruben, an alumnus who has been ministering in Laguna (north of Bicol, our "Judea and Samaria"), asked if he could sit in on our online classes to be refreshed. Then Nina (not her real name), a former student, suddenly contacted me asking if she could continue her BCCL training online. She now lives in a restricted country in Asia, being married to a national. Then a church mate of mine from way back asked if she could go through the BCCL training courses online from her home in Germany. This sure is confirmation that God is directing us to develop a missions training track in this new season of BCCL. Amidst the pandemic, God has opened up a way for us to reach "the ends of the earth" through our online ministry training courses. This is our second online class (Church Planting was the first one) and more to come! All glory to God for these developments!
A. Claire Marker, BCCL Director