Published on August 25, 2020
Click here to view this newsletter as a PDF.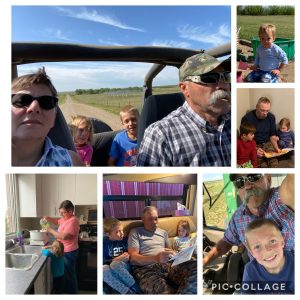 This season has brought us to Alberta to spend time with our families. We have been on the move between our children's homes – our daughter in Edmonton and our son near Medicine Hat. We have thoroughly enjoyed reconnecting with our family and making memories with our grandchildren, whether it being baking cookies, gopher hunting, playing board games, watching our grandson learn to ride a two-wheel bike, or having sleepovers. We feel so blessed to do life with our children and grandchildren. We treasure these times.
Vern got to put his farming hat on again and help our son with his hay crop. Papa and Cache enjoyed an afternoon together making hay bales. We all look forward too jumping into the jeep and going to check cows in the pasture.
Work continues on at Camp Falcon Rock. They have been dealing with lots of rain, so things are not moving along as fast as they would like.
Work continues on the root cellar/cabin project. The sewer/water system is in place. They have been building retaining walls and making patios at the cabins. This patio space will be wonderful for the campers to hangout!!!
It was an exciting day when they were able to begin the dirt work on the new lodge. A construction team will begin construction soon.
As the cases of COVID-19 rise again around the world, we have made the decision to cancel our return to Romania in August. We pray we can return to the field soon but want to feel safe in doing so.
---
Prayer
The Camp Falcon Rock team as work continues.
Construction and funding of the new lodge.
Decisions for us as we are in Alberta waiting to return to the field.
Praises
Construction has begun on the new lodge.
We have remained healthy during this time.
There is a time for everything, and a season for every activity under the heavens.
Ecclesiastes 3:1 (niv)
Blessings,
Vern & Gloria Wagner
1219 pleasant grove blvd., roseville, california, 95678, united states
vgwagner@gmail.com | rootsinromania.com nabonmission.org/missionaries/vern-and-gloria-wagner/