Published on August 21, 2019
Click here to view this newsletter as a PDF.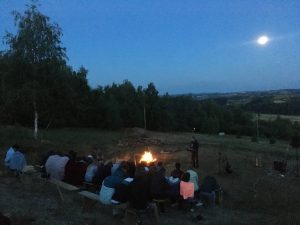 I was reminded by a good friend through his sermon how the Hebrews would pile rocks at certain spots to remind them of how God helped them win a victory or how He blocked a river so they could cross and still how later on they needed to be reminded of His provision. In the middle of a busy season we need that. It's easy to tap myself on the back at the end of a week of campers and say "that was great, see what we provided for these kids and adults, the new cabins work so well, we got them done just in time, they look so good." I guess our pile of rocks here are the buildings we've been putting together. They are another reminder of His mercies, goodness, and grace. So, after some busy times it's good to stop and say THANK YOU LORD because not one moment of these past weeks would be anything without His hand upon this place.
All hands were on deck for the month of June as we prepared the cabins for summer camp. No matter the year or how much preparation you do, the last couple of weeks before beginning camp is busy. This year it was the same. We had electricians and plumbers in the cabins finishing up their work days before the campers arrive. But praise God they were completed in time and boy do they look good!
Paul and Tanya organized 3 weeks of camp. The first 2 weeks were children's camp and the last week was a youth camp. Staff training began June 27 with our youth from Szentkiraly and 2 young ladies from Canada that were here to help us for a month. We were all set for 17 campers to arrive on June 30. A total of 44 campers attended the first two weeks and 27 youth were here to enjoy the fun times at Camp Falcon Rock. Each day started with worship, followed by bible teaching, cabin time, team competitions, lunch, fun afternoon games, rest and hangout time, dinner, more games and another teaching session. Every day ended with the highlight of the week, campfire which included worship, testimonies and a bible message. It was great to see the children/youth enjoying camp life and experiencing God. We were encouraged by the testimonies not only from the campers but the leaders as well. We are not here just to share the good news with the campers but we are raising up and discipling the youth to become leaders and the ones that will be operating this camp one day.
We're now into rentals at the camp. It's so great seeing the camp full and booked every week with church groups. The next 3 weeks are church rentals and each week we have 60-90 people coming. Then we have a construction/VBS team from Bismarck Baptist join us. Part of the team will do construction at the camp and the other part of the group will serve doing VBS in a nearby village. We are looking forward to what God will do through this team at the camp and in their sister church village.
For construction at the camp, the guys are working on a container house for Tamas and Tunde. We bought a container, cut it in half, and have been converting into a container home so that Tamas and Tunde can move up to the camp. There are no permits required as this house has no foundation so work can go ahead. It will be great to have the Modi's join us here at Camp Falcon Rock.
Again, we thank you for your prayers, love, and support – God has blessed us as we serve here at Camp Falcon Rock.
Till next time,
Vern & Gloria Wagner