Published on February 15, 2020
Click here to view this newsletter as a PDF.
Prayer
Funding & planning of the new Main Lodge so that construction can begin this spring
Staff & campers for summer camps
Praises
Have received permits for the new Main Lodge
After a long time, in the third year, the word of the Lord came to Elijah: "Go and present yourself to Ahab, and I will send rain on the land."

1 kings 18:1 NIV
Have you ever got to a spot in your life and were faced with a decision and went for it, only to have God say, "Whoa here, let's wait a bit." That's how it was when we first got involved with Camp Falcon Rock; in 2015 we were here for two weeks to build 2 cabins, can you imagine building two cabins in two weeks? HAHA! Four years later, we are just about finished with those two cabins, albeit they've changed substantially and we are not quite finished. In the midst of that project, we started seeking God's timing on the next project, the main lodge. This time more prayer, fasting and waiting on Him. It's time!!!! Elijah prayed and there was no rain for three long years. God said OK enough, it's time. That is where we are now.
After a long time, in the third year, the word of the Lord came to Elijah: "Go and present yourself to Ahab, and I will send rain on the land" 1 Kings 18:1.
We give God the praise that we have the permits for the main lodge, Tamas has been chatting with construction companies – it's getting exciting!!!! If you are interested in donating to the main lodge fund, please go to
www.rootsinromania.com or www.nabconference.org/give/special-projects/#romania. We thank each one of you that has given so generously to this fund.
Things have slowed down at Camp—all of us have been catching up on a few odd jobs. We were able to take a week of holidays and spend with our family in Denmark the first of December. We were thankful to join in on the Christmas gathering of all the Wagner relatives, great to catch up and spend time with family.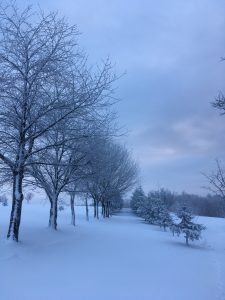 Being from Canada, it's just not Christmas unless there is snow; on December 24, we woke up to a nice fresh covering of the white stuff! We gathered with some neighbours for a Hungarian meal on Christmas Eve, sang Christmas carols, and enjoyed fellowship. Christmas Day we attended church in Szentkiraly and had lunch with some dear friends. Arrived back to camp in time to FaceTime our family to watch our grandchildren open their presents from us. A quiet relaxing Christmas reflecting on the 'Reason for the Season'.
We had two Youth Groups from the area rent the camp over the holidays; great to see groups coming to camp at all times of the year.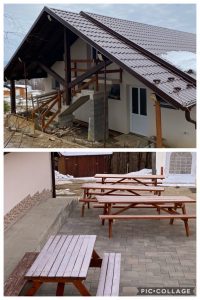 The crew, plus a local construction company, have been busy building an extension over the back of the cabins; this will help to protect the stairway and the doors. Picnic tables are being built—these will be a great addition for the summer camps, lots of space for the groups to hang out.
We are thankful that we can be here at Camp Falcon Rock—that wouldn't be possible if it wasn't for each of you as you pray and support us. Blessings to all.
Till next time,
Vern & Gloria Wagner