Published on February 20, 2022
Click here to view this newsletter as a PDF.
We arrived in the USA from Cameroon on January 14 and will be here until mid-June. Nashville First Baptist Church has made their mission house available to us, and we are very grateful!! We have enjoyed some time in Tennessee with our son and his family (including four grandsons) on the weekends. We are now in Florida to spend time with our daughter and her family (including a granddaughter and grandson). After that, we will be mostly on the road, reporting to 19 of our supporting churches over the next four months. These are scattered from Wisconsin, Minnesota, North Dakota, South Dakota, and Iowa to California. We plan also to attend a 10-day CME conference in April and a 10-day conference being held by the NAB in May. We expect to return to Cameroon on June 15.
While we are away, the pathology service is being provided via telepathology. This is currently being done using the manual slide scanning system that was used during our last furlough. This is possible because of the generosity of numerous stateside pathologists who are reading the cases. We are very happy to report that a new, automated slide scanner has also been purchased thanks to the matching fund sponsored by Southwestern Medical Clinic Foundation in 2021. The scanner is now on site in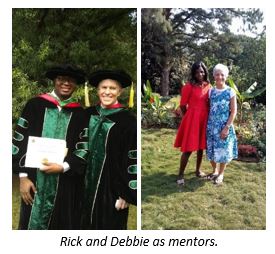 Mbingo awaiting an installation team to arrive from South Africa. This will greatly expand our capacity for telepathology. We are so grateful and thank any and all of you who contributed to this! In addition, a volunteer pathologist is scheduled to actually go to Mbingo in mid-February to stay for six weeks! We thank God for blessing us though so many wonderful people!
Opportunities and Blessings in December 2021
In His Matchless Love, 
Rick and Debbie Bardin
---
PMB Box 42, Bamenda, Northwest Region, Republic Of Cameroon
Dbardin55@Gmail.Com | Rbmedpath@Gmail.Com