Published on November 14, 2022
Click here to view this newsletter as a PDF.
Dear family and friends,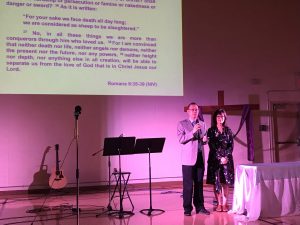 Time flies. Our home assignment has completed, and we look forward to returning to the field. At the time of your reading this letter, we have returned to Asia by the grace of G*d. Even though we were unable to meet all of our supporting chu*ches and partners, we are grateful and cherished every moment of connecting with new and old friends. Certainly, we enjoyed occasions of precious family reunion in the midst of well-packed chu*ch visit schedule in the past few months.
On the other side, the country where we serve is still implementing zero-Covid policy. Whenever any positive case is found, the housing compound would be locked down in no time. Some of our friends have been facing severe tensions and even fear under various kinds of uncertainties.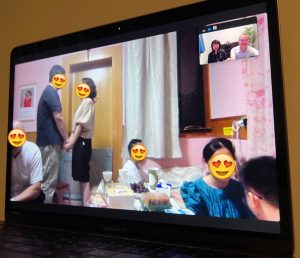 Despite a half-of-the-globe geographical distance with big time difference, we are thankful to keep on providing comfort and counseling assistance to those who sought help. Besides, thanks to technology, we were able to start a married couple fellowship with a local chu*ch of the field during home assignment. Praise G*d! All participants were eager to share and ponder upon many meaningful topics together online, such as the meaning of marriage, roles and responsibilities of husband and wife, emotion "button," effective communication, forgiveness, family altar and devotion, etc. Through questions and discussions, we all grow deeper and walk closer to the One of perfect love.
We would like to share a testimony. There is a Chr*stian married couple: the husband Owen and wife Oliva, with a three-year-old son. Owen earns his family's living, and Oliva is a full-time housewife. The pandemic induces a massive economic downturn. Owen did not lose his job, but the financial stresses in his family turned into a very risky and difficult situation. Coping with largely reduced income, he borrowed money to afford daily expenditures of the family. He got depression almost two years ago due to various sources of pressure, job insecurity, financial burden, and debts. Gradually, he refused to go to chu*ch. Meanwhile, however, Owen never shared with Oliva about the financial situation of their family.
Nine months ago, Owen started to make all kinds of excuses not to return home. He either stayed overnight in the office after work or lingered in the bar till dawn. He evaded Oliva and his son at all costs. Recently, Owen found that he could not put up with this situation any longer. Preventing his family from inheriting his debts, he requested Oliva to get a divorce and then he was going to end his own life. Oliva was heartbroken and felt utterly helpless to Owen's suffering. She contacted us and sought our advice. Iris encouraged her and pr*yed with her together for G*d's comfort, mercy, and protection. We are thankful that Owen was willing to open up to Nick and shared frustration and worries from his deep heart. Guiding them to realize that divorce is not a solution, we helped Owen rebuild his relationship with G*d in the past months. We encouraged him to go back to chu*ch and constantly pr*yed with Oliva together. Since then, even though Owen's emotions have been up and down, he started to talk with Oliva about his feeling and thoughts. The difficulties and challenges in front of Owen and Oliva are huge; nonetheless, the Almighty G*d with everlasting love never abandons them. We keep on pr*ying that they fix their eyes on and put their trust in the Lord Jes*s in the midst of storm and that their family would experience the faithfulness and wonders of the Creator of the universe, our gracious Heavenly Father. Their lives would be transformed to become more mature in the Lord and G*d-pleasing.
Further, to our previous letter, a national past*r's 21-year-old son, Jimmy, who got bone cancer and whose leg was amputated due to cancer spread, has received several surgeries and many cycles of therapies. Jimmy passed away a few months ago, and his suffering on earth is over. May G*d wipe every drop of tears from his parents' and sister's eyes. We pr*y that G*d's strength and comfort be with Jimmy's family and friends.
We appreciate your continuing walking with us in the miss*ons journey. Have a very blessed and meaningful (US) Thanksgiving Season!
Nick & Iris