Published on August 21, 2019
Click here to view this newsletter as a PDF.
Dear Family and Friends,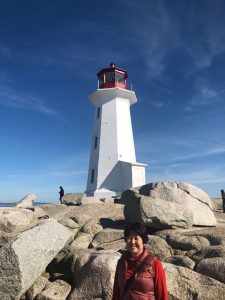 I have been busy visiting churches and reporting on the ministry in Japan. Every church visit has been a blessing. It has also been encouraging to meet up with individuals who are interested in missions and want to know more. I am also enjoying opportunities to travel and sightsee. I was able to visit most of the Atlantic provinces of Canada with my sister last June. This is a picture of the lighthouse at Peggy's Cove in Nova Scotia. I love lighthouses as it often reminds me of how we need to look to "The Light," Jesus, for direction in our lives. I have been reminded time and again that the ever-present, omniscient, and all powerful God is watching over us. I had many God-appointed meetings with various people in the last few months. One of those amazing encounters was bumping into Pastor Takano all the way from Japan who just happened to be taking a group of 23 people on a tour of Prince Edward Island. God planned that we would meet at the Heritage Site of the Anne of Green Gables house on one of the walking trails! Neither of us knew that the other would be there, so what a shock to see each other, both of us so far away from home! We definitely felt God's all-knowing Presence!
Another God-appointed meeting was to meet up with two Japanese ventriloquists at the Vent Haven Ventriloquist Convention in Kentucky. I had no idea that Takeshi Ikeda and his wife, Shu, are the founders of the Japan Ventriloquist Association and that they are strong believers in Christ who have a vision to use puppetry and ventriloquism to share the gospel and to see this medium used in all the churches of Japan!! Wow. I couldn't help but feel that we were meant to meet each other. I was moved to tears when I witnessed their talent on stage and they were the only act that brought a meaningful message about God's love. The Japanese way of story-telling is truly inspiring and gave me encouragement to continue this new "hobby" and to further my skills to help spread the Gospel.
My upcoming church visits and travel schedule:
August 4: Calvary Baptist Church, Wetaskiwin, AB
August 11: Tri-Community Baptist Church, Beiseker, AB
August 18: Glory to God Christian Assembly, Edmonton, AB
August 25: Heritage Baptist Church, Yorkton, SK
Sept. 1: Grace Baptist Church, Ochre River, MB
Sept. 8: Leduc Fellowship Baptist Church, Leduc, AB
Sept. 15: Northgate Baptist Church, Edmonton, AB
Sept. 25: Edmonton Christian Community Church, Edmonton, AB
Sept. 29: Mission Baptist Church, Winnipeg, MB
Oct. 6: McDermot Avenue Baptist, Winnipeg, MB
Oct. 20: Central Baptist Church, Edmonton, AB
Oct.22: Taylor Seminary Chapel, Edmonton, AB
Oct. 25-26: GEM @ Terwillegar Community, Edmonton, AB
Oct. 27: Zion Baptist Church, Drumheller, AB
Oct. 28-30: Blue Ocean Training Seminar, Vancouver, BC
Nov. 3: First Baptist Church, Plevna, MT
Nov. 10: Sturgeon Valley Baptist, St. Albert, AB
Yuri Nakano