Published on May 10, 2018
Click here to view this newsletter as a PDF.
Dear Family and Friends,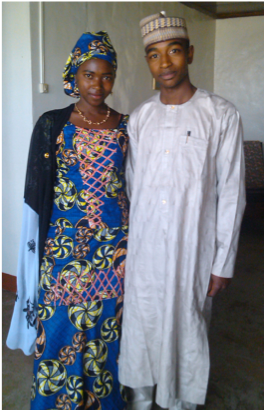 Among the many interesting individuals I've encountered in the course of this work is a young Nigerian couple, Ibrahim and Bilkusu. Both belong to a Muslim tribal group known as the Fulbe. Yet, Ibrahim and Bilkusu are Christians.
Ibrahim's father, a Nigerian man with four wives and a total of 28 children, bears the title of Wakili (pronounced Wah-kee'-lee). This title is accorded a Fulbe leader who is second in command to the Ardo – the local tribal chieftain. During his tenure as 'Wakili,' Ibrahim's father executed his duties with wisdom and integrity – all the more after publically turning to the Lord Jesus in the year 2000. Yet, subsequent to his public profession, Wakili endured considerable persecution within his community. On more than one occasion Wakili was imprisoned on false charges – only to be released after the charges were proven baseless.
Wakili eventually renounced his title – by which he is nevertheless still known. After forsaking this position he no longer enjoyed the prestige and financial remuneration associated with the position of the Ardo's 'right-hand-man.'
In many ways, Wakili's family could see that he was a changed man. When Wakili presented the Gospel to his large family there was no coercion – only an invitation. Having been raised in what was, up to that point, a Muslim home steeped in Islamic tradition, Ibrahim resisted turning to Christ for many years. Eventually, in January 2015, compelled by the change in his father's life, Ibrahim made the decision to follow the Lord Jesus. Some of Ibrahim's siblings have also followed suit.
Bilkusu too was raised in a polygamous Muslim home. She and Ibrahim met when Wakili moved his family to Bilkusu's village. In that context, Wakili witnessed to Bilkusu's father – who, in time, also came to faith in the Lord Jesus. Bilkusu herself surrendered to Christ in September 2015 – some eight months after Ibrahim's decision. Ibrahim and Bilkusu were married one month later.  They came to BBH in 2016 with plans to pursue medical training as a way to serve their people.