Published on August 19, 2021
Click here to view this newsletter as a PDF.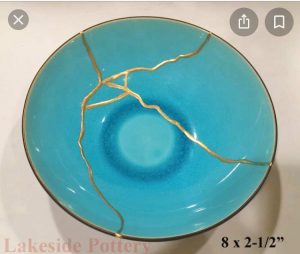 Kintsugi is a beautiful Japanese art form. When precious or common pottery pieces are broken, they are turned into beautiful pieces of art by being mended and welded together with a gold resin. The result is something much more unique and exquisite than before. Isn't that such a picture of God's amazing grace? He takes our broken lives and turns them into something so very precious and beautiful. He is a redeemer, and His heart is always seeking out the broken. Raff made this discovery while working on his ordination paper this summer. His professor was challenging him to not only write about his doctrinal convictions but also find out what places are broken in Japanese society and find out what God's Word has to say about it. This has been a much longer journey in writing than he had anticipated. But in the process his heart has also been broken for the people of Japan. Those who are marginalized and become outcast by their society. Those who are broken. What tender compassion does the Good Shepherd have for these precious broken pieces of art that He made and how He longs for us to share His love and message of hope with them to see His Shalom (wholeness) come to their lives.
Our summer has been very hot, dry, and full of smoke. We went camping on the hottest weekend of the year (42 degrees) and cut it short because it became unbearable in our tents. We arrived home and watched the majority of our chickens (save six) die from heat exhaustion. It was a sad day,
It has been a privilege to minister in other congregations in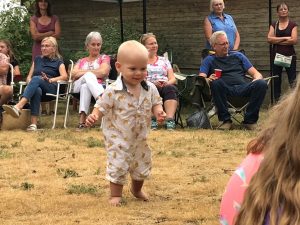 our community here in Creston over the summer. Raff has preached at a small community church, and Sylvia had the blessing of leading worship at two different churches, as well as at a large community worship time up on a mountaintop. How precious to see the barriers that held us apart before COVID hit be torn down and the body of Christ come together and worship Him in Spirit and in truth. The beauty of this gathering was that there were people from a wide spectrum of denominations, and yet Jesus was lifted up and He was the central focus. A close friend named Jen had initiated it as a birthday celebration, but instead it became a potluck and worship evening. Many generations were present, and many different people came up and read scripture, shared testimonies, and sang their songs of praise to the Lord. It was an expression of freedom in Christ that we do not take for granted anymore.
particularly for Jude, who has a soft heart for our animals. We did an emergency, premature butchering to get the remaining six that were alive in the freezer so that all our investment was not in vain.
Since that time, there has been no rain, and fires have broken out all over British Columbia. Every so often the Lord will raise up the wind and sweep the ash-filled air so we can breathe easier again.
Our home has been very full of both our eldest son and eldest daughter and our grandson staying with us. But we have not taken these special moments for granted. Caleb will be leaving us this month to go to Bible school at Prairie Bible College and attend the aviation program there. He has the opportunity to gain a commercial pilot's license or become a bush pilot. He is waiting to see how God will lead in this endeavor.
Our eldest daughter, Allie, also started her graphic design program. She is now a full-time student and a full-time mom. Please pray that she finds time to balance these big responsibilities.
Since our last letter, we have needed to make the decision to postpone our departure date for Japan, as our support levels are not high enough and COVID restrictions have prevented travel. We are confident that God has the perfect timing for our arrival in Japan. And in the meantime, we will continue to prepare for that day.
Thank you for your continued prayer and support as we trust God to bring us to Japan.
Love in Christ,
Raffaele & Sylvia Gaudio
Ways to Give to the Gaudios Start-up Fund
Raffaele & Sylvia Gaudio
rafa.sylv7@gmail.com | (250) 428-7769