Published on May 20, 2021
Click here to view this newsletter as a PDF.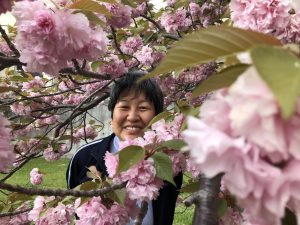 The cherry blossoms seem especially pretty this year amidst the difficult stories we hear around us. I was also happy to be able to attend my first and only (so far since arriving in Japan this year) in-person worship service on Easter Sunday this year! What a joy to meet and worship in person together, albeit masked! Due to the alarming rate of new COVID cases here in Osaka, we are again in a state of emergency and need to continue to be careful and resume with online services.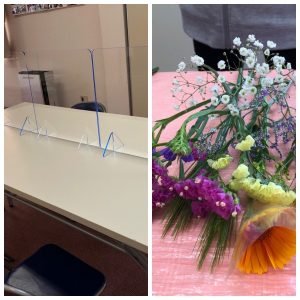 A recent highlight has been to join my volunteer friends at the local community center working with the seniors twice a month. The events have definitely changed to keep people properly distanced and such. The picture shows the plastic partition boards on the table and the bouquet of flowers we handed out to the seniors to come and pick up and arrange for themselves in their own homes. We are not able to mingle very long with the seniors, but I have had good conversations with the staff and how they are coping during this pandemic.
I am hopeful and encouraged as I continue to participate with the JEA Women's Commission. In the most recent event, the guest speaker was from an organization called Bare Hope. Fifty-three women from across Japan heard about this amazing organization that works to assist with adoption and foster parenting and pregnancy crisis counseling and also to make in-roads in the government. It was very informative for me to learn that over 60,000 children in Japan live in orphanages/shelters. Not many Japanese consider adopting, let alone Christian families, so this is a huge area for prayer.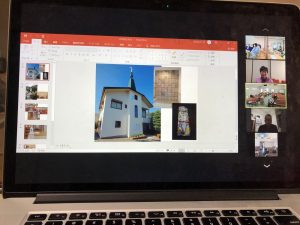 We just finished an online gathering of the JBC Deeper Life Conference via Zoom. It was the first time to do it online, but 148 people were registered. Rev. Izumi Akasaka, who is President of Bible Seminary, was our speaker. He gave two messages about remembering the importance of why we worship rather than how we worship. He also spoke on how to stand upon the Truth while facing an uncertain and ever-changing future. The messages were very timely and encouraging for us. Thank you for praying for the churches of Japan to thrive and grow and to be filled with hope.
Thank you for partnering with me in prayer and support!
Rejoicing in our Risen Saviour,
Yuri Nakano