Published on February 20, 2022
Click here to view this newsletter as a PDF.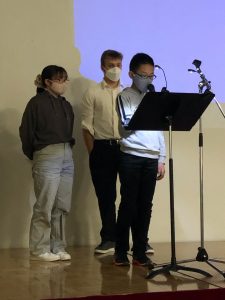 Christmas is a wonderful time of year, not only because of the lights and gatherings but also because it is one of the best times to share about the love of God our Father and the birth of our Savior Jesus. Even with all the challenges of a global pandemic, the joy of Christmas still shines in our hearts. I am thankful for the many ways I was able to share that joy with friends, with students, and with the youth.
You may remember we started a youth group at Komyo Christian Church in 2020, along with students from our sister church, Kongo Bible Church. We gave it the name YEAH! since the first initial of the first four members spells 'yeah.' We enjoy our monthly gatherings, where we play games, sing, study God's Word, and, of course, have snack time. For our Christmas gathering, we decided to do something different and made a gateau chocolate cake. I brought the ingredients, and the students worked together to make the cake. It was delicious!
I was thrilled when the three students from Komyo Church were able to join our Christmas Eve service and were willing to participate. The two younger ones greeted everyone and handed out candles, while Elijah and I played the prelude on our clarinets. Then the three of them led the Advent reading and prayer.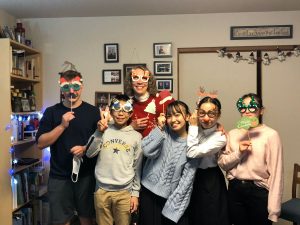 Please pray with us as these young people learn to live rooted and built up in their Savior Jesus Christ, that they will be strengthened in their faith, and that they will overflow with thanksgiving.
Thank you for your prayers for our Christmas Eve service. One person attended for the first time. There were several people we had not seen for a long time. Also, there were several who attended from our sister church, Kongo Bible Church. Because the space is so large, we also enjoyed singing out loud together. What a privilege it is to meet together for praise and fellowship.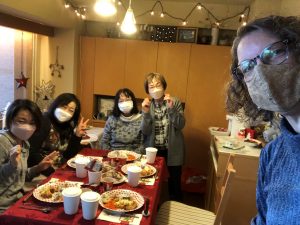 Pray with us for Komyo Christian Church as we learn to walk with Jesus, being rooted and built up in him as we are strengthened in our faith and overflow with thanksgiving.
One of my English conversation classes had the opportunity to hear the true meaning of Christmas twice in December. There are four members in the class, two are Christians and the other two are not yet; however, they both have open hearts. One of the Christian students is the wife of the pastor from Kongo Bible Church. They invited us for their Christmas tea time, where we enjoyed fellowship and heard the Christmas story, as well as the story of the carol "Silent Night."
The following week, we had a potluck at my apartment, where we also decorated cookies. Before we started, I shared the Christmas story in simple English while the ladies translated it into Japanese for themselves. Please pray with me for these students and the others at Komyo Church to hear Jesus calling them to himself.
As I look to the next few months, I look forward to how God is going to continue working in each of these areas of ministry, as well as in my own heart, as I continue to live my life rooted in Jesus, being built up as I walk with him daily. Thank you for your partnership in sharing the love of Christ where you are and through your support of me and the ministry here in Japan.
(FYI: Kongo Bible Church is the first place I ministered when I moved to Osaka in 2006. I am grateful for their prayers and support over the years.)
Soli Deo Gloria,
---
Shan Reed
Ibukino 3 Chome 14-9-903, Izumi Shi, Osaka Fu 594-0041 Japan
7701 S TOWNSLEY AVE #212, SIOUX FALLS, SD 57018 USA
nabonmission.org/missionaries/shan-reed
Komyo Youtube Channel: youtube.com/channel/UCcuaqxhYlUf-DMZAuh5cZtQ