Published on February 10, 2021
Click here to view this newsletter as a PDF.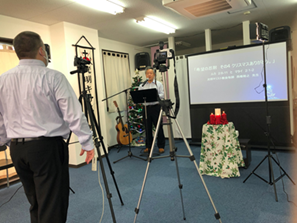 Maybe some of you recognize the set up in this picture. When Osaka prefecture's COVID-19 cases increased again in December, Komyo Christian Church once again had to decide how to hold our worship services. In the spring we had printed the sermons and hand-delivered or mailed them to each of the members and regular attenders. At our November meeting, the leadership decided to try an online video option. So, we dusted off the cameras, got some lights, and signed up for a YouTube channel. We appreciate the work Paul Ewing has put into editing the video and learning all kinds of new technology things! We are also thankful for this new way of sharing God's salvation. If you would like to practice your Japanese, take a look! The link is at the end of this newsletter.
From the time we started Komyo Christian Church, reaching out to our neighborhood has been a priority. One of the ways we have done this is by visiting the nursing home across the street to do origami every other month, with an added caroling session in December. As you can imagine, we were not able to do this at all in 2020. We decided to have our annual ladies' Christmas craft gathering be a time to make something to give to the residents of the nursing home. When we were not able to meet together for the craft time, we had to get even more creative! We made up 140 craft kits and the ladies who usually attend, plus some of our English students, put together these cute ribbon Christmas trees for us to deliver and the staff to pass out to the residents of the nursing home.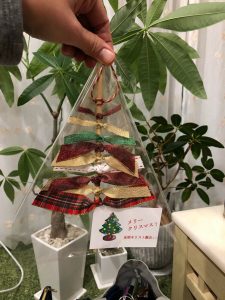 Teaching English online is not ideal, but we are finding ways to make it work. The students who are able and willing to join us have been having a good time not only learning new technology but also new ways to communicate. I suspect they are learning some English words that we may have never introduced in a pre-pandemic conversation class. We even had a Christmas party together with games and Christmas cookies I had sent them in advance. I can say teachers who do this all day every day deserve our highest respect! I cannot imagine trying to teach children remotely!
We had a wonderful time celebrating Yuki's baptism on the last day we could meet together in person in 2020. What a joy to celebrate his beginning steps in his journey with Jesus. It was also fun to have all of the original members of Sonshine Kids Gospel Choir together, along with their directors!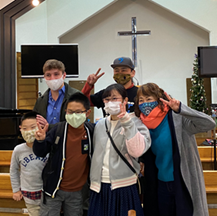 I had been planning to be in the U.S. for home assignment starting in October 2020. But then 2020 happened and all plans were put on hold, changed, or even canceled. When my coworker Yuri was finally able to get a ticket to return to Japan, I was able to make arrangements to return to the U.S. On January 8, I traveled in a very strange world of pandemic travel back to South Dakota. Of course, with the need to continue to pay attention to health guidelines, I will be doing most church visits virtually this time around. I look forward to connecting, even if it is through a screen!
Our newest missionaries, the Gaudio family, are continuing to raise support to join us in Japan. If you or your church are interested in learning more about their family and ministry, please visit their page on the NAB website: nabonmission.org/missionaries/raffaele-sylvia-gaudio.
Thank you for partnering with me and your encouragement through prayers and faithful support of the ministry in Japan. God is truly at work making his salvation known and revealing his righteousness to the nations.
Soli Deo Gloria,
Shan Reed
---
Shan Reed
Ibukino 3 Chome 14-9-903, Izumi Shi, Osaka Fu 594-0041 Japan
shaninjapan@mac.com
Komyo Youtube: https://www.youtube.com/channel/UCcuaqxhYlUf-DMZAuh5cZtQ