Published on May 14, 2019
Dear Family and Friends,
Well, another quarter has flown by, and we are surprised to actually find ourselves in a place where were have internet to get this newsletter to the head office!! (Actually, it's just me, Sonya, who is enjoying the hospitality of our Converge friends). Blogging is for sure NOT happening at this time.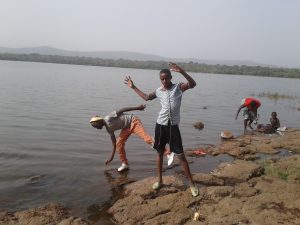 At the end of our last newsletter we reported plans to be in Banyo and work on language and to look into visiting communities in Cameroon. This, surprisingly enough, is actually what we have done. We had a few weeks of some kind of 'routine' life in Banyo, language work, TEE editing, prison and hospital work. Got in one descent hike up one of the mountains near our house. We wound up in late March with a trip to one village, where they asked us to run another financial management series, as well as share some teaching Jeff had done in another setting on the subject of their culture and the Bible. We were more efficient this second time in our presentation of materials, and had some fascinating and practical discussions. (I was happy that my teaching segments were in the evening where my night owl tendencies were clearly revived.) I got to the lake near there a few times and could introduce a number of young people to the fun of swimming. Almost none of them had ever been there and do not really swim.
We had some fellowship with Kristi Ten Clay, Elsie Lewandowski, and brief contact with a larger-than-normal number of other missionaries in Yaoundé, either at the SIL conference or temporarily relocated there. (Plus, a couple of chances to enjoy a swimming pool and to shop for numerous things not available in our area).
We detoured to Bamenda on our way to pick up some White Cross boxes (the October 2018 shipment) and a few other items and returned home. Bamenda and the CBC headquarters were strangely empty of the usual stream of cooperating missionaries coming and going, and it was weird to follow the increased security protocols for moving around in town, like always using a driver and needing to check on which areas of the city we could or could not go to.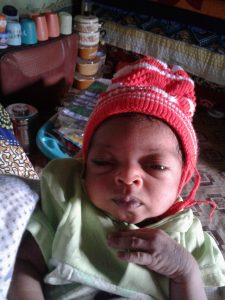 We returned in time, we hoped for Jeff to participate in the baptism of the prisoners we mentioned last newsletter, but there was another hiccup, so it was delayed again. We have heard that it took place after our departure, and we praise God for that. By mid-April, we took off again (by motorcycle taxi again) and are still here at time of this writing.
There have been a few highlights of our time here. One is just seeing our brothers and sisters, who we get to know a little bit more whenever we come. Our nursing couple had their first baby the day we arrived and I was very honored that her nickname will be Sonya. (Some people go almost solely by their nicknames; some it is hardly used. Since in their language, to 'sonya' kind of means to shake or rattle something; I hope this nickname will not be a burden to her!!)
We had the joy of meeting Jim Black here as well and were able to engage in some productive discussions with the leaders regarding developing a better strategy for training spiritual leaders (evangelists /pastors), especially since various communities of believers currently do not have any trained leaders, but years of seminary are not necessarily the best option.  
We enjoyed a somewhat eventful trip together with Jim (and a full vanload) to the village that has epic memories for Jeff. We seriously praise God that we were able to get there. There were some security issues that nearly derailed the trip, and numerous mechanical issues that set us back a full day. Jeff has tried on numerous trips to do so, but had not been successful in going since his original visit there in 2009. We had an excellent time of fellowship. We were able to finally see the widow's house that we helped fund a couple of years ago, as well as really encourage this community. We were happy to see that some of the new traditional leaders for the area seem much less antagonistic to the Christians than their predecessors. We believe that they have really turned a corner over the past few months and we are looking forward to see the results of that.
After a few days of 35-40 degrees, though, we were happy to return to the much cooler plateau area. There has been some more good progress on the clinic renovations. We won't be able to launch until sometime after we get the sea container from Canada, so please pray that we get the necessary paperwork for duty waivers so it can be on its way soon. It's going to be a challenge to get it into place if it arrives during the height of rainy season. Disappointingly, the used computer I was given for the clinic to use has much less battery life than is really helpful, so this means they will have to do a lot more paper work and transfer it when they have power.
We have no idea if things in Ndu are much closer to the benchmarks for normalcy that we have in mind that would enable for us to return. We will likely just assess that when we get back (around May 14). The NAB relief fund is still active as there are SO many IDPs needing assistance because of this crisis. https://nabconference.org/give/cameroon-crisis-relief/
Thank you so much for you continued prayer and financial support. Feel free to drop us a line!!
Jeff and Sonya Kilmartin