Published on August 25, 2020
Click here to view this newsletter as a PDF.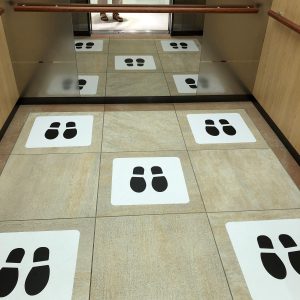 Greetings! The rainy season has ended, bringing summer into full swing with its heat and humidity, as well as the endless drone of cicadas. God's creation is full of variety!
As with the rest of the world, we are learning how to do life in a socially distanced manner. The picture to the right was the scene when the elevator doors opened at a store I recently visited. There are bottles of hand sanitizer or alcohol sprays at the door of shops, windows are left open even if the air conditioner is running, and we are all wearing our face masks, trying to find the coolest ones to use during the summer months. All of this has also had an effect on how we do church, of course.
We have been allowed to meet in groups since the beginning of June. As a church, we want to protect our members and those they love, so we have changed the way we meet on Sundays. We check each person's temperature as they walk in the door and provide them with hand sanitizer. The chairs are set two meters apart, or with dividers between the chairs. Worship services are only forty-five minutes, with music only sung by the leader or played via DVD. In order to accommodate all of our people and make room for walk-ins, we have also added a third worship service.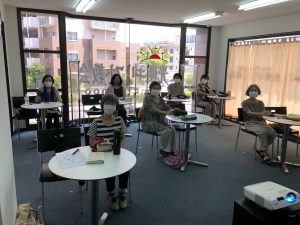 What a blessing to gather again, even in this restricted manner. We have gotten used to this new way of doing things but are very much looking forward to worshiping and singing together again.
Along with starting our Sunday worship services in June, we were also able to start meeting with our English students and Bible studies in person again. A lady who has moved into the area joined in our Thursday morning Bible study. She has studied the Bible with missionaries in the past and was happy to find a place to continue studying. She was also interested in English conversation classes. Although she ultimately was not able to join a class, there were enough other people interested that we started a new class. Two of the ladies are Christians, and the other two ladies are members of Anointed Gospel Choir with me but are not yet Christians. We are excited to see what God has planned.
In mid-July, we were able to host a ladies' seminar. Our theme was "Choose Life." We studied Deuteronomy 30 together as we talked about how to choose life and the importance of repentance. For various reasons, only seven ladies could join; however, we enjoyed studying God's word together and sharing our ideas.
It is a joy for us to plan for new missionaries to join us in Japan. Raffaele and Sylvia Gaudio have started the fundraising process to come to Japan. As you can imagine, it is a challenging time to try to visit churches and to introduce yourselves and the vision God has given you as newly appointed missionaries. If you or your church are interested in learning about this huge answer to years of prayer, please visit their page on the NAB website: https://nabonmission.org/missionaries/raffaele-sylvia-gaudio/.
Thank you for your faithful support and prayers. Your faithfulness makes my faithfulness possible. May God continue to use each of us to expand his kingdom as we seek to know and to serve him daily.
---
Praises
Praise the Lord we have been able to return to corporate worship at Komyo Christian Church, in a modified and socially distanced way.
Praise God for teaching us how to choose life.
Praise God for long-time and new English and Bible students.
Praise the Lord for his faithfulness in walking with us, especially in these uncertain times.
Praise God for our new missionaries, the Gaudio family! Pray with us as they raise support and prepare to join us in Japan.
Prayers
Pray for our English students as they come to the church each week to study. May our conversations with them always be seasoned with the love and joy of Jesus.
Pray for the youth of the Japan Baptist Conference. Our summer camp has needed to be changed from a three-day event to a two-hour online event. Pray for the students, many of whom have a very short summer holiday this year, that even this short time together will be encouraging and refreshing.
Pray for me as I continue to live out my faith alongside my Japanese brothers and sisters, that we would all remain steady in our commitment and be bold in our actions.
Pray for Komyo Christian Church as we continue to settle into a new kind of ministry, not only with the pandemic restrictions but also with our new pastor.
Soli Deo Gloria,
Ibukino 3 Chome 14-9-903, Izumi Shi, Osaka Fu 594-0041 Japan
shaninjapan@mac.com