Published on November 10, 2021
Click here to view this newsletter as a PDF.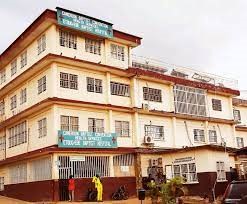 The vision statement of the Cameroon Baptist Convention Health Services is to "offer quality care to all as an expression of Christian love." This ministry is carried out through ten hospitals, twenty-nine health centers, a primary healthcare system for small rural villages, a centralized medicine and medical supply distribution service, specialized services for the disabled including the deaf and blind, health service training programs for staff development, a technical services department for infrastructural maintenance and development, and a host of specialized projects focusing on care for specific health needs. These health ministries are spread out through eight of the ten regions (provinces) of Cameroon.
We at the Cameroon Baptist Convention Finance and Development Department assist the Health Services by taking all their financial transactions, entering them in an accounting software, and providing each health unit with a monthly general ledger listing and financial statement to facilitate stewardship. We reconcile their many bank accounts to the general ledger as a test of financial integrity. In doing so, we have a ready awareness of which health units are financially viable and which ones are struggling. Predictably, the urban health facilities tend to be financially viable while many rural/village health centers struggle to be sustainable. These struggling ones count on the "fat" of the urban facilities to see them through. With the current political instability and sporadic violence in English Cameroon, the health units on the French side have the potential to do better than those on the English side, where often even the ability for patients to travel to a health unit is hampered.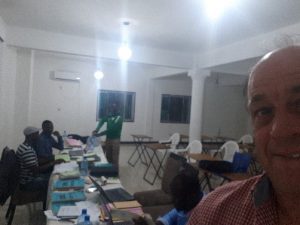 It is when we at the Finance and Development Department go out and make internal audit visits to these health units and interact with the administration, those who work in the drug store, the pharmacy, the lab, etc., that we gain insight into challenges faced in "offering quality care to all as an expression of Christian love." Many patients cannot pay for their health costs but desperately need healthcare. Frequent electrical outages and unstable electrical current spoils costly equipment quickly and hampers the delivery of healthcare. There is a challenge of having needed medicines and medical supplies available at the health unit. Some of the staff are more committed than others to providing quality healthcare.
hampered.
Yet despite formidable challenges, God has blessed the Cameroon Baptist Convention Health Services. People are being healed. The Gospel is being shared at health centers and hospitals. The chaplains and social workers are giving counselling to help people through their life issues. Many organizations, groups, and individuals are assisting with resources and personnel to achieve the vision statement. White Cross is an excellent example of this, providing blankets, baby needs, bandages, and other medical supplies.
It is an honour to work alongside the Cameroon Baptist Convention Health Services in striving to achieve quality healthcare as an expression of Christian love. I could not be a part of this without the prayers and support of churches and individuals who have sent me here. To all of them, I express my profound gratitude of sharing with them in God's kingdom work.
Walter & Florence Grob
---
Nkwen Baptist Centre, PO Box 1, Bamenda, North West Region, Cameroon