Published on February 20, 2022
Click here to view this newsletter as a PDF.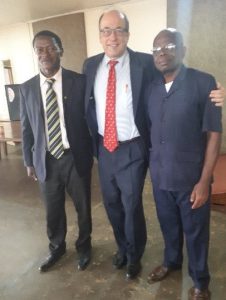 The Cameroon Baptist Convention (CBC) has well over 150 departments/ministries, including administrative departments, rest houses, indigenous national missionary units, two seminary locations, nursery, primary  and secondary schools, hospitals, health centers and specialized health service projects, a printing press, two radios stations, investment funds, and cooperating missions departments. While these varied ministries serve in eight of the 10 regions (provinces) of the country, they function within a centralized financial/accounting system.
Walter and his coworkers in the CBC Finance and Development Department (FDD) are charged to ensure the financial resources, which belong to God, are transacted in a manner of transparency and good accountability.
When regular, consistent training and policy guideline updates in an organization come to a standstill, there is a tendency for people to divert from following set standards and policies and do what suits them. To some extent, that is the situation the CBC was moving to as regular training ceased in 2018 as unrest increased in English Cameroon and was further exacerbated by the COVID-19 pandemic. In the first half of 2021, Walter worked on an updated financial policy manual. Then a training was planned for September 2021 but was thwarted by another lockdown period called by the Anglophone "Amba" separatist interests, making travel unsafe. Finally, in mid-December, an FDD team, including Walter, were able to hold a three-day seminar on CBC financial regulations with 58 participants. Also at the beginning of December, they were able to hold a one-day seminar on the tracking of fixed assets (land, buildings, vehicles, equipment, furniture, etc.) for 62 participants. For both seminars, some could still not attend because travel from their areas had considerable risk.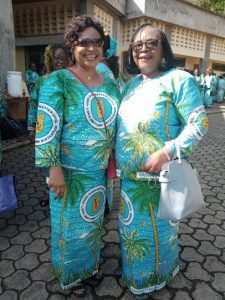 A secondary assignment for Walter is to serve as the Nkwen Baptist Centre Supervisor. When several long-serving staff of the Centre went on retirement at the end of 2021, they were appreciated with a recognition service. The three were Emmanuel Ngong, a faithful security guard, and Pastors Chinda Johnson and Koni Richard, who administered the theological education by extension program and produced and distributed the CBC's yearly Sunday School material. It was an encouraging time, but unfortunately Pastor Koni Richard could not attend due to extended poor health. Please join us in praying for his healing. Pray for all three as they adjust to retirement.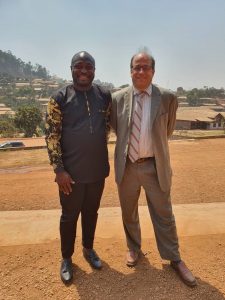 Meanwhile, Florence and the alumni of Saker Baptist College held several singing concerts to raise funds for their project as part of the 60th anniversary of Saker Baptist College, an all-girls boarding secondary school in Limbe on the Cameroon coast. The school has had a long and significant ministry in educating and providing spiritual formation for the girls that attend there. Florence serves as the alumni's choir director. Their anniversary project is to do a much-needed renovation to the school's refectory (dining hall). The full 60th anniversary celebration was supposed to be held on January 29, but because Cameroon was hosting the Africa Nations Cup soccer tournament and Limbe was one of the venues, all other public gatherings were banned. So now the plan is to celebrate it in mid-February.
We thank God for the much-needed trainings, we thank Him for the passages into retirement, and we thank him for the ministry and milestone of Saker Baptist College. We also thank Him for your interest and support in God's Kingdom work. God bless.
---
Walter & Florence Grob
Nkwen Baptist Centre, PO Box 1, Bamenda, North West Region, Cameroon